The Best of Me (Blessings, Georgia, 13)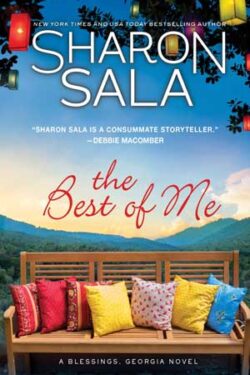 Author

Sharon Sala

Release Date

April 26, 2022

Publisher

Sourcebooks Casablanca

ISBN/ASIN

978-1728206202

Our Rating

Reviewed by

Jo
Our Review
THE BEST OF ME is the thirteenth and final book in the Blessings, Georgia series, and I am sorry to see it end. The characters have become like family, and it will be sad not to see where they are headed next. A Christmas novella might just be what fans need to be able to return to this small town with a big heart. (Hint, Hint!)
Carlie was an orphan at a young age. Fortunately, her dying mother had the foresight to plan ahead. Unbeknownst to Ruby and her husband, Peanut, they are given guardianship. They fill holes in each other's lives since Carlie needs a family and Ruby and Peanut are unable to have children yet have so much love to give. THE BEST OF ME is an emotional story on many levels. Throughout the tears and heartache are heartwarming moments of laughter and love. So much attention is paid to details that enrich the story. There are layers to the characters, and that depth makes them feel real.
The plot moved swiftly, everyday happenings mixed in with some of the more heartbreaking events, which kept me turning the pages to see what would happen next. I read it in less than twelve hours, it was that good! There is nice closure on several fronts and some feel-good happily-ever-afters. And I love the vibrancy of the cover.
Ms. Sala is an author whose books I've enjoyed. She's definitely on my TBR list!
A Recommended Read!