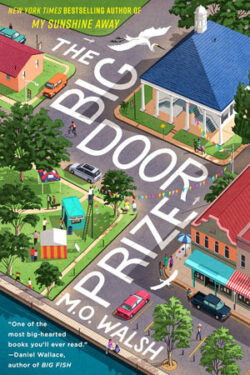 Author

M. O. Walsh

Release Date

September 8, 2020

Publisher

G.P. Putnam's Sons

ISBN/ASIN

‎B07Z2TL3GP

Our Rating

Reviewed by

book lover
Our Review
THE BIG DOOR PRIZE by M.O. Walsh is set in Deerfield, a small town in Louisiana where a machine suddenly appears in the local grocery that takes a DNA sample and tells a person their potential.
The story centers around a happily married teacher, Douglas Hubbard; his wife, Cherilyn; a priest, Pete; and his teenage niece, Trina; Hank, the mayor; and his teenage son, Jacob, whose twin brother recently died in a car accident. As the machine tells the citizens their life potential, from cowboys to magicians, it causes Cherilyn and Douglas to question their life choices and even their marriage. 
The story touches on difficult subjects, from death to assault, but wraps with a nice happily ever after with Douglas and Cherilyn. I did feel like it left other threads hanging and unresolved. Even so it was an enjoyable read.