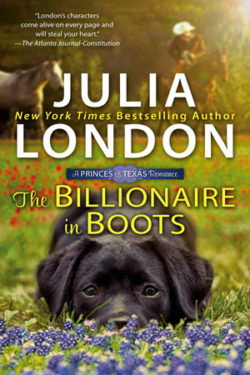 Author

Julia London

Release Date

March 3, 2020

Publisher

Berkley

ISBN/ASIN

9780451492395

Our Rating

Reviewed by

Jo
Our Review
I love books with cowboys and set on ranches, and THE BILLIONAIRE IN BOOTS fulfilled that requirement. It's the third book in the PRINCES OF TEXAS series, and we meet up with old characters as well as meet some new ones. This is Nick and Charlotte's story, and it's filled with their families, friends, and a lot of animals. 
Nick is quiet. He'd rather train to become a pilot than run his family's businesses. But because his dad died suddenly, leaving them a ton of debt and a few other surprises, he's stuck helping family. Charlotte is a hard worker who worked as his dad's assistant for years. She is efficient, always on top of things, and knows so much about the business. But she definitely has her quirks and a different sense of humor not everyone gets.
The story has a nice flow to it and some laugh-out-loud moments, especially with the scenes set at the cemetery plot. Animals play a big part in the story too, since soft-hearted Nick takes to rescuing so many.
The heartache balances the warm love in the book, making this a rich and enjoyable read. Note there are some scorching bedroom scenes that help round out the romance. The story ends leaving a lot of room for more stories to come. The next book in the series, THE SCOUNDREL IN THE STETSON, is on my TO READ list.
An enjoyable contemporary romance that will have you smiling, pick up Julia London's THE BILLIONAIRE IN BOOTS. You won't be disappointed.