The Blacksmith Queen (The Scarred Earth Saga)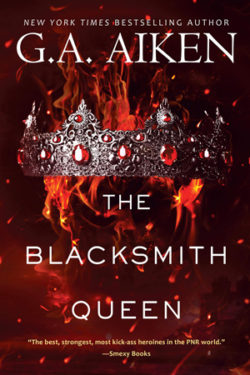 Author

Shelly Laurenston

Release Date

August 27, 2019

Publisher

Kensington

ISBN/ASIN

9781496721204

Our Rating

Reviewed by

SJ
Our Review
G.A. Aiken is known for her quirky, funny, biting dragon romances that all began with DRAGON ACTUALLY (an awesome read). Now Aiken is back with a fantastic new fantasy romance involving magic, villainous royals, and prophecy. THE BLACKSMITH QUEEN is nonstop humor, action, and adventure with a romance woven into the story following a female blacksmith and her prophesied sister.
Aiken writes about strong women and loves bashing stereotypes. THE BLACKSMITH QUEEN is no exception as the heroine, Keeley, bests enemies with her brawny strength and deep loyalty to friends and family. She is a heroine to root for, and when the enemy reveals itself, the reader is left reeling along with Keeley.
But Keeley's not alone. Amichai warriors have come to help Keeley protect her family. Warrior Caid, in particular, seems more than interested in keeping her safe. The Amichai are fierce and different than the average, everyday soldier. Then too there's Keeley's holy sister, a nun who is a lot more than she seems. The banter between sisters is fantastic and only adds to the humor of the story. There's also mention of a "mad queen" far away for fans of Aiken's dragon books. (I would love to know if this book will tie in to the dragon series.)
The world building is perfect, with a medieval feel that's mixed with contemporary sentiment. Family never goes out of style, and this is Keeley's story. She's the center around which this amazing book revolves. It's a must-read for the protagonist alone, but the layered descriptions and characterizations truly round out a terrific fantasy romance.
THE BLACKSMITH QUEEN is a must-read. If you want a story about fierce heroines, evil enemies, and deserving heroes, don't miss Aiken's newest book. It's a definite keeper.
Recommended Read