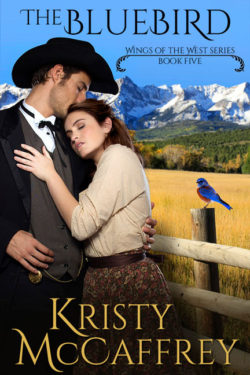 Author

Kristy McCaffrey

Release Date

October 31, 2016

Publisher

Kristy McCaffery LLC

ISBN/ASIN

9780998090719

Our Rating

Reviewed by

Jo
Our Review
THE BLUEBIRD – WINGS OF THE WEST, BOOK 5 is a fast paced read with a depth to the characters and the story that kept my interest from the first page to the last as it unfolded. The book is a historical romance that is set in the late 1800's that is reminiscent to me of Dorothy Wiley's AMERICAN WILDERNESS SERIES and her WILDERNESS HEARTS ROMANCE SERIES whose backdrop is set in the founding of the West.  
Molly Rose has a lot of daring and grit having traveled alone from the Arizona Territory to Creede, Colorado to meet up with her brother, Robert, who left home two years ago and is looking for silver as a prospector.  When he's nowhere to be found her adventure really begins when she meets up with his partner, Jake, better known as The Jackal.  There's an immediate attraction but Molly Rose is an innocent and Jake becomes very protective of her as they search for her brother, the Bluebird Mine and their other claims.  There are many characters that live in the area and each has their own story of why they are there and what they're looking for.  Some are good and others pure trouble!  Molly Rose feels she's a good judge of character but Jake doesn't always agree with her or her logic.
There are family and friends, lots of mining facts, Indians, prospectors out for their own greed, brothels, saloons, the mountains, animals, heartache, sadness, loss, fear, anger, hurt, betrayal, thefts, tears, desolation, riches, happiness, laughter, parties, loving and love.  There are quite a few twists to the story that added more depth and suspense to the telling.  The descriptions of the lands and the town made me feel that I was there.  There is wonderful closure with a happily ever after that was better than anything I could envision.  The epilogue, that takes place one year later, ties up the loose ends but definitely left me wanting more!
McCaffery is a new to me author that I look forward to reading more of.  This is the first book of McCaffery's that I've read and being it's the last book in this series I do plan to read the first four books – THE WREN, THE DOVE, THE SPARROW and THE BLACKBIRD, as well as her stand alone books. They will be added to my always growing TBR pile!  There were brief synopses of each of the books in the series as well as INTO THE LAND OF SHADOWS at the back of the book that really piqued my interest.
The book is based on history and has a realism to it. The  Author's Note at the back of the book gave some of the history of the area in Colorado that was portrayed in the book.  I always appreciate it when author's provide additional information.