The Book Woman of Troublesome Creek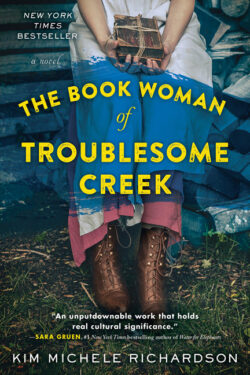 Author

Kim Michele Richardson

Release Date

May 7, 2019

Publisher

Sourcebooks Landmark

ISBN/ASIN

B07LGD67ZZ

Our Rating

Reviewed by

book lover
Our Review
THE BOOK WOMAN OF TROUBLESOME CREEK by Kim Michele Richardson is a historical book set in the 1930s about a blue-skinned woman in the hills of Kentucky,
Cussy Mary Carter is the last of the blues. Ostracized by most of the hill people, she becomes a pack horse librarian, and while many still scorn her, many more accept and embrace her as she travels by mule over a hundred miles a week to deliver their books to them. One her routes includes Lovett Mountain and Jackson Lovett. 
Jackson immediately falls in love with Cussy and thinks her blue skin is beautiful and is distressed when a cure is found to make her skin white, but the side effects of the drug make her ill. 
There are so many wonderful characters in Cussy's route and so much desperate poverty, yet she brings them light and hope with the books. This is a very slow building romance, but sweet. You can't help but root for Jackson and Cussy. There is a happily-ever-after, but it is hard earned and well worth the read.
As a side note, this is fiction, but much of the story is base on historical fact including the pack horse librarians and the blue people of Kentucky. Congenital methemoglobinema is due to an enzyme deficiency leading to higher than normal levels of methemoglobin in the blood. It makes the blood chocolate and turns the skin blue. Most with this disorder lived long lives.