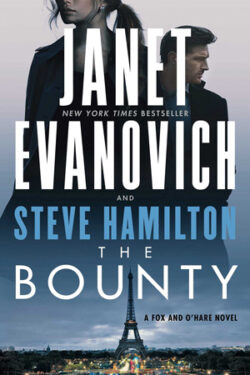 Release Date

March 23, 2021

Publisher

Atria Books

ISBN/ASIN

B08BZWMHKF

Our Rating

Reviewed by

Book lover
Our Review
THE BOUNTY by Janet Evanovich and Steve Hamilton is a fun, fast-paced action/adventure.
FBI agent, Kate O'Hare, and ex-thief, Nick Fox, now consulting with the FBI, are on the hunt to stop the Brotherhood from finding a lost train loaded with $30 billion in Nazi gold, hidden for the last seventy-five years in Eastern Europe.
Kate and Nick, with assistance from their fathers, travel from a remote monastery in the Swiss Alps to the lawless desert of the Western Sahara. If you enjoyed movies like Sahara and National Treasure, this book will be right up your alley. Kate and Nick's flirtation adds to the overall  enjoyment of the book.