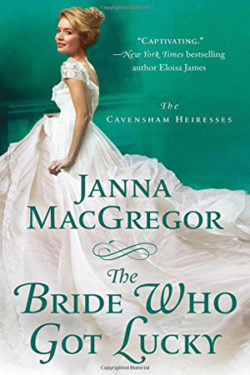 Author

Janna MacGregor

Release Date

October 31, 2017

Publisher

St. Martin's Paperbacks

ISBN/ASIN

9781250116147

Our Rating

Reviewed by

Michele Rioli
Our Review
THE BRIDE WHO GOT LUCKY is a splendid treat from start to finish. It is the second book in the CAVENSHAM HEIRESSES series. Woe is Lady Emma Cavensham. Her best friend Lena dies young and Emma takes it seriously to heart. She vows to bring Lena's husband to justice, since Emma suspects he is to blame. Thus, Emma starts a campaign of sorts for all women needing financial help from ne'er-do-wells. So, Emma finds herself in trouble more times than her parents would like, over her misadventures. Her latest scheme lands her in deep trouble. She is rescued by a family friend, the Earl of Somerton, Lord Nicholas St. Mauer. Heaven help her, he is so devastatingly handsome! Emma doesn't need rescuing now or does she?
Lord Nick is a confirmed bachelor after his cruel-hardhearted father disowned him as a lad, twisting a vengeful proverbial knife in him. Thus, he lives a life of solitude. Nick shuns society and romantic entanglements of any sort. When he is requested by Emma's brother to look out for her welfare over the years, he becomes smitten with Emma. Her beauty beguiles him and her interests in remaining independent intrigue him. However, Emma's latest venture goes seriously awry. When Emma's brother asks Nick to locate her and bring her home, he is honored. However, the stunning lass steals his heart and Nick silently pledges to himself that he will save her, even if it disrupts his well-ordered life. Only, extenuating circumstances prevail and a wedding is in the foreseeable future. Oh, for the love of Pete! Emma is shocked at the course of events. Will obstinate, gorgeous Emma accept Nick's proposal?
THE BRIDE WHO GOT LUCKY is deliciously provocative in historical detail, garnering a resounding applause for best regency romance involving two self-sufficient anti-marriage individuals who ultimately fall in love. Lady Emma, a beautiful, resourceful woman and Lord Nick, a dashing, handsome man with honorable intentions provide food for fodder in society circles, after Emma's latest dash to save a woman from ruin. Only, she is threatened by her deceased best friend's husband in the process. When Nick is seen alone with Emma, without a chaperone, all her plans are ruined. What will happen to Emma now? Ms MacGregor is one classy writer! There is everything in this novel and more. There is tingling suspense, an intriguing mystery, sizzling chemistry between Emma and Nick, emotional upheavals and of course a scorching romance. This is definitely a keeper! I couldn't get enough of Emma and Nick's burgeoning romance. THE BRIDE WHO GOT LUCKY is absolutely brilliant! Sparkles just like champagne!
A Recommended Read!