The Bridesmaid and the Bachelor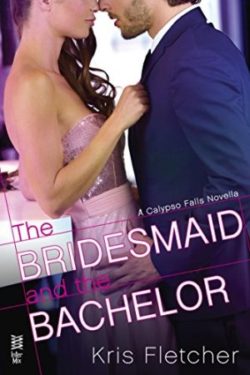 Author

Kris Fletcher

Release Date

November 15, 2016

Publisher

Intermix

ISBN/ASIN

9781101989258

Our Rating

Reviewed by

Chrissy
Our Review
Kyrie Elias has agreed to pretend to be her twin sister at a friend's Las Vegas wedding – and it's not just as a guest either… she's a bridesmaid. She barely knows the bride so she's a little more than worried that she won't be able to pull off the deception and it's extremely important that she's successful at it – a lot is at stake, including her business.  Any hope she had that she wouldn't be noticed is quickly dashed when she comes face to face with Ben Sitka.  She'd engaged in a fling with him two years ago and then ran off without even saying 'goodbye.'  Ben wants answers and Kyrie wants his cooperation about keeping her identity a secret.   It's a complex situation that only gets more complicated as the wedding draws nearer, but for Ben and Kyrie it might be the second chance they desperately needed.
THE BRIDESMAID AND THE BACHELOR is a fast paced, charming read.   Kyrie's panic over the possibility of being discovered is endearing – and I loved how she tried playing off that she doesn't know Ben when he initially confronts her.  While there was a previous 'relationship' between Kyrie and Ben this story focuses more on their emotional involvement and not so much on their sexual chemistry.   I genuinely enjoyed their banter and especially loved that they come to realize that their dreams aren't so far apart that they can't overcome them – together.  Kris Fletcher is a new to me author  and I'll be checking out her other titles – will definitely be on the lookout for the rest of the CALYPSO FALLS series.
Since this series involves five sisters I'm guessing there will be five stories but so far I'm only finding information for two stories.
CALYPSO FALLS series:
LIFE OF THE PARTY
THE BRIDEMAID AND THE BACHELOR