The Cafe Between Pumpkin and Pie (Moonbright, Maine)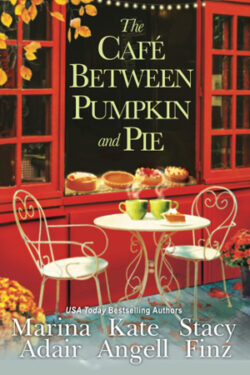 Release Date

August 31, 2021

Publisher

Kensington

ISBN/ASIN

9781496733207

Our Rating

Reviewed by

Jo
Our Review
THE CAFE BETWEEN PUMPKIN AND PIE is an anthology that includes three novellas written by three different authors. The stories all take place in Moonbright, Maine at Halloween. They are filled with the Moonbright Legend, holiday happenings, love, and even some magic! We get to know the goodness of the town and can feel the magic in the air. There are several recipes in the back of the book that are woven throughout the story, and I plan to give a couple of them a try.
LOVE OVER EASY by Kate Angell
LOVE OVER EASY has the café at its core with Nan, the owner, two of her granddaughters who work with her, and staff and regular customers. This is Hannah and Jake's story, and it is hot from the minute their eyes meet across the parade route. She's trying to ride herd on her triplet nephews, and Jake steps in to give her a hand. From then on, they seem to be an instant couple. But does he have one foot out the door since he's only there to visit with his elderly grandfather? Her sister, Lauren, who has a past with Jake but is happily married with the triplets, keeps telling her that's his M.O.  
Jake and Hannah seem to hit it off, although he's more worldly than she is and Hannah's more of an innocent whom everyone looks out for, especially while she's waitressing. The Moonbright Legend, the belief that you will see your future husband in a reflective surface before midnight if you say the magical chant, is a fun part of the story. Hannah says the chant and throws caution to the wind. She and Jake work well together and have definite chemistry, but will their romance stand if he leaves? The small town gossips add humor to a terrific love story. 
Angell is one of my favorite authors. This is her third visit to Moonbright, Maine, and I hope she'll be returning for more. (She normally writes contemporary romances with baseball and the beach at their core.) I eagerly await each one.
LOVE RISING  by Stacy Finz
LOVE RISING has Sydney in town after the death of her beloved grandmother (who raised her.) She's there to settle her estate and get her grandmother's lovely Victorian house ready for sale. Then Sydney will return to her life and business in San Francisco. When Nick, a contractor her grandmother hired, shows up and is tearing apart the carriage house to install a commercial kitchen, she doesn't know what to think. She doesn't understand why her grandmother designed the kitchen and paid for it in full knowing she was dying. As Nick and Sydney grow closer, her grandmother's reasonings seem to come to light. But will those reasons be enough to keep Sydney in Moonbright?
There are some hot moments between the sheets, along with a hefty dose of romance between Nick and Sydney–who knew each other a long time ago–and some rough goings with Sydney's business partner. Will things work out the way her grandmother planned? A great romance with an epilogue (which takes place a year later) that's just the icing on the cake.
Ms. Finz is a new-to-me author. I have several of her books on my TBR pile.
ROMANCE ON TAP by Marina Adair
ROMANCE ON TAP is Mila and Hudson's story, but Mila only has eyes for his twin brother, Ford. Events that happened seven years ago mix with the present, and Mila has to rethink what she's believed all that time. As Hudson and she get closer, they both have trouble expressing what they want. Not communicating almost costs them their future. Good thing they both seem to come to their senses at about the same time, and Hudson has his brother to thank for some of it.
Together, Mila and Hudson seem to make a great team. Mila's a window artist in Moonbright, decorating a lot of the businesses windows to make some money. Hudson seems to be wherever she is. Their relationship builds gradually, and the romance is genuine. But will life and their obligations keep them apart if she gets a new job in L.A.? Great pacing and terrific characters make this a really fun and satisfying story.
I've read several of Ms. Adair's books and always enjoy them. I look forward to reading more of her work.