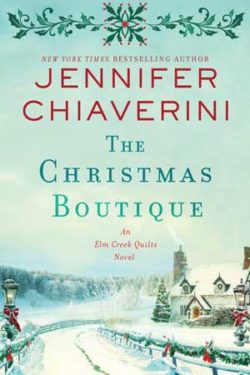 Author

Jennifer Chiaverini

Release Date

October 1, 2019

Publisher

William Morrow

ISBN/ASIN

9780062841131/B07MKYV764

Our Rating

Reviewed by

Michele Rioli
Our Review
THE CHRISTMAS BOUTIQUE is a glimpse into the lives of women who are serious quilters and the many friendships that are forged. The story stars Sylvia Bergstrom, an educator and quilter who grew up during the depression. Her family is wealthy and they live in the huge Elm Street manor. She lost her first husband in the war and became very depressed. Sylvia moved out of the estate after tensions rose between her and her sister. When her sister passes away, Sylvia inherits the manor. She moves back home and renovates the severely neglected estate and restores it to its former glory. Since quilting is her passion, she turns the huge house into a retreat for quilters and forms the Elm Creek Quilt camp. Life brings romance back into her life as well, and she remarries. But, storms brew on the horizon…
Severe winter weather damages the church hall in town, where the annual Christmas boutique is held. This is a fundraiser that supports the local food pantry. Is there an alternate place to host the gala?
Sylvia and her quilting group offer to host it at the large manor. All hands on deck! Soon the place is festooned with decorations, food and craft booths, and wonderful aromas of desserts! The ladies agree to hang their prized handmade quilts on the walls too. Will the fundraiser be a success?
From quilts to friendships and everything in-between, THE CHRISTMAS BOUTIQUE is a holiday classic with many drama queens! The author cleverly spins fascinating in-depth chapters into the lives of several women who are quilters and their life problems. I was excited to read another account into the lives of Ms. Chiaverini's fictional world of the Elm Creek Quilters. I love the history of quilting, its many intricate patterns and how difficult some are to piece together. There is something special, a charm, that grabs hold of your heart, as you read about each tear, argument and success in the lives of the quilters club. Will all these women find happiness and true love? Come along on a fascinating journey of lost loves, family drama, and the love for quilting. THE CHRISTMAS BOUTIQUE is homespun charm, Hallmark style!