The Christmas Cowboy Hero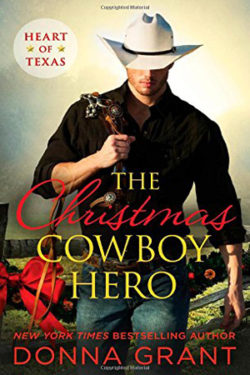 Author

Donna Grant

Release Date

October 31, 2017

Publisher

St. Martins

ISBN/ASIN

1250165423

Our Rating

Reviewed by

Raonaid
Our Review
Former Navy-SEAL Clayton East returns home to help save his family's ranch from financial ruin. He searches for the culprits responsible for stealing the ranch's prize bull and several pregnant heifers. When he apprehends a teenage cattle-rustler, he decides to give the boy a second-chance after meeting his sister. Abby Harper's calm presence helps silence the demons of his past. With her aid, Clayton learns the identity of the cattle thieves. Can Clayton's SEAL abilities keep Abby and her teenage brothers safe? Will he be able to convince Abby that they have a future together?
Abby Harper works a thankless job to provide for her two teenage brothers. When one lands in jail for cattle-theft, she struggles to find a solution. When Clayton East gives her brother a second-chance, Abby feels grateful. She likes the positive influence Clayton and the ranch has on her brothers. The irresistible cowboy convinces her to look over the East Ranch's financial books. Abby discovers a clue to the identity of the cattle-rustlers. Will Abby move past her abandonment issues to let Clayton in?
Clayton is such an easy hero to like. He is a man tormented by his brother's death and the service he dedicated to his country. I admire how Clayton returns home despite his reservations to help his parents when they needed him most. He finds a fellow kindred spirit in Abby. I like how Clayton finds respite from his mental demons in Abby's presence. But what I love the most about Clayton is his willingness to help the Harpers rather than giving them hand-outs. He is the first person to acknowledge Abby and her abilities.
Abby is such an awe-inspiring heroine. I admire her selflessness by stepping forward and raising her younger brothers after their mother left. Everything Abby does is for her siblings' sake. But what I really like about Abby is her integrity. She may be down-on-her-luck financially; however, she remains steadfast in paying a good deed back with another good deed. She finds honest ways to obtain what she and her brothers need than resort to underhanded means.
THE CHRISTMAS COWBOY HERO is book one in Donna Grant's brand new romantic suspense series, HEART OF TEXAS. I at first thought this story belonged to the author's other romantic suspense story, or it could be a spin-off from it. I may not be into the cowboy theme, but I like the author's cowboy-SEAL combination.
THE CHRISTMAS COWBOY HERO is a sweet yet evocative story of two wounded souls finally letting the ghosts of their past go to be happy. I like that the Christmas element is more of a back-drop than the main focus in the story. I cannot wait for more books in this heart-warming series.