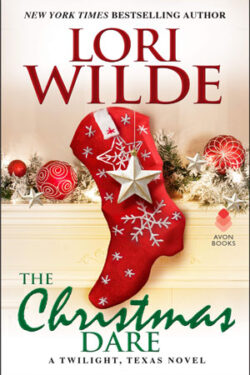 Author

Lori Wilde

Release Date

October 22, 2019

Publisher

Avon

ISBN/ASIN

9780062468314

Our Rating

Reviewed by

DianamMcc
Our Review
THE CHRISTMAS DARE by Lori Wilde is a second-chance romance. Kelsey and Noah met at summer camp as youngsters. Their friendship and love had grown by the time they were teenagers. But Kelsey's overbearing mother put a stop to that, intercepting and destroying the letters Noah sent after camp ended.
Ten years later, Kelsey is stood up by the groom at her Christmas wedding. She's devastated. Her best friend and maid of honor talks Kelsey into going away with her for the two weeks that were to have been her honeymoon. Unbeknownst to Kelsey, her friend, who knows of Kelsey's former relationship with Noah, has booked her into the resort run by Noah and his brother.
It's Christmas, and the resort is full, with guests and thanks to a formal annual charity event that Noah and his brother put, which is wonderful. Kelsey and Noah's sexy meet-up in a utility closet is hot, hot, hot!
Second chances don't come often. Noah is persistent and knows what he wants. But Kelsey has to take a chance on love again.
I loved seeing Kelsey and Noah grow and reconnect. They both needed to make changes in their own lives before they could move on with each other. A very entertaining story full of heart, angst, drama and love. I highly recommend THE CHRISTMAS DARE. Definitely one of my favorite holiday stories.
Recommended Read