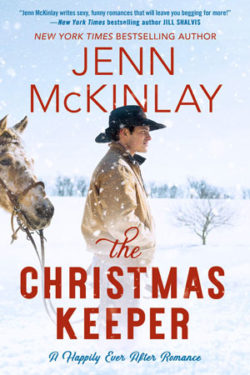 Author

Jenn McKinlay

Release Date

October 29, 2019

Publisher

Berkley

ISBN/ASIN

9780451492456

Our Rating

Reviewed by

Jo
Our Review
THE CHRISTMAS KEEPER is a nice continuation of the HAPPILY EVER AFTER series.  This is the second book, and I'm look forward to reading more since there are definitely more stories to tell. This is Joaquin (Quino) and Savannah's (Savy) story with the Happily Ever After Bookstore as its backdrop. The story is set in the small town of Fairdale and Quino's ranch, Shadow Pines.
We've met the characters in book one, THE GOOD ONES, but we're still learning about them. Savy isn't into relationships or Christmas. She's just waiting to get back to New York City to get back her publicist position. Quino is all into Christmas, and he's starting to get Savy interested in it too.
I loved getting to know more about the main characters, but also the side characters as well. There were so many stories that were intertwined and successfully told. The emotional roller coaster of laugh-out-loud moments, silliness, and tears made this a wonderful romance full of depth. There was nice closure, but I would have loved to savor the upcoming happily-ever-after a little more.
I look forward to reading more of Ms. McKinlay's books.