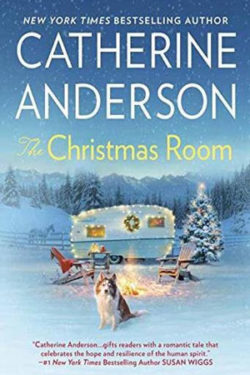 Author

Catherine Anderson

Release Date

September 27, 2017

Publisher

Berkley

ISBN/ASIN

9780399586316

Our Rating

Reviewed by

Jo
Our Review
THE CHRISTMAS ROOM by Catherine Anderson was more than I was expecting.  I was drawn in immediately by the characters and their relationships. Maddie, her son (Cam), and his son (Caleb) are transplants to Montana from California. While living on their land in tents and trailers until their home is built, their crotchety neighbor, Sam, has nothing but bad things to say and gets downright nasty. When Maddie takes him on, he had better watch out!
Sam and his daughter, Kirstin, have a relationship that is loving but also too controlling. He's afraid of losing her and being alone after his wife dies and pushes everyone away. She can't have a life, and he can't get the necessary ranch hands he needs to work for him since he's fired them all at one time or another over the last six years.
There are a lot of twists and turns to the story, and the characters are all multifaceted. There is a depth to them that we get to know little by little. This is a multi-generational story, and I loved their interactions because I was able to really get to know the five main characters. The story flows nicely. There are vivid descriptions of the lands, the animals, the holiday celebrations, the homes, and food, but especially of the Christmas Room. There is wonderful closure and a nice happily-ever-after or two.  
Anderson is a new-to-me author, and I don't know how I've missed her all these years. I am adding many of her books to my always growing TBR pile.