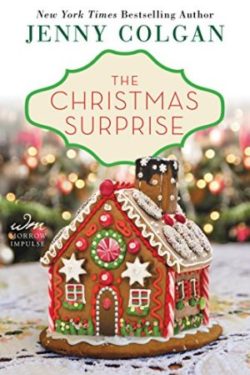 Author

Jenny Colgan

Release Date

December 6, 2016

Publisher

William Morrow Impulse

ISBN/ASIN

9780062467249

Our Rating

Reviewed by

Jo
Our Review
THE CHRISTMAS SURPRISE is the third book in the ROSIE HOPKINS' SWEET SHOP SERIES and I do hope to go back and read the first two, WELCOME TO ROSIE HOPKINS' SWEET SHOP OF DREAMS and CHRISTMAS AT ROSIE HOPKINS' SWEET SHOP.  While mainly set in cold and dreary England there were some moments of warmth in the story although not related to the weather there.
Rosie and Stephen are betrothed but not planning their wedding. She has a miscarriage early in the story and starts to keep secrets from him.  When they traipse off to Africa to visit a family he knows there as well as help out others he worked with before their life will never be the same.  There are quite a few unexpected twists and turns to the story but all have relevancy.
As the story progresses we get to know their friends and family but I'm not too fond of Stephen's mother or sister but then neither are they.  Rosie's shop plays a major role as does Stephen being a teacher, their cottage and her great-aunt.  They are centrally located to friends, family and their jobs but it doesn't seem like that will last since they need to move or do they?  There are births, deaths, weddings and other festivities, babies, children, candy, anger, fear, hurt, tears, laughter, love and loving.  There are reminisces where not all memories are good ones as well as vivid descriptions of the land, the buildings, the weather, the baby, Tina's wedding and the food that made me feel that I was there.  There is some unexpected closure with a possibility of a happily ever after but still more story to tell and I believe the author thinks so too.
Colgan is a new to me author.  I look forward to reading more of her books even with the difficulty of words native to England and/or Africa.