The Christmas Wishing Tree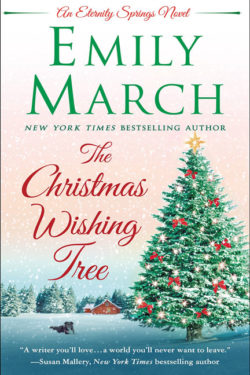 Author

Emily March

Release Date

September 25, 2018

Publisher

St. Martin's Paperbacks

ISBN/ASIN

9781250131720

Our Rating

Reviewed by

Jo
Our Review
THE CHRISTMAS WISHING TREE is the fifteenth book in the ETERNITY SPRINGS series, and somehow, I missed the first fourteen of them. Guess I have a lot of reading to do especially since Ms. March is a new-to-me author.
There are dark undertones to THE CHRISTMAS WISHING TREE, and it wasn't the happy Christmas story I was expecting. There are twists and turns with some lightness thrown in, especially by Devin, aka Santa Claus, and his family and friends. Celeste, the owner of the Angel's Rest property, loves all things Christmas and has some magic up her sleeve. She gets people thinking, always looking for the bright side, and loves to impart her wisdom and sayings. When Jenna and her son, Reilly, take a trip to Eternity Springs, they meet lots of townspeople, including Devin's family. It's just the balm to their souls that they need too, since they're being stalked, evilly and horribly pranked, and worse, they don't know who's doing it or why. They learn the legend of the Christmas Wishing Tree and love the story behind it.
The descriptions of the setting were vivid and made me feel like I was there. The story takes place in Nashville, Florida, Australia, and the Caribbean, as well as Eternity Springs, and I was transported to where the scenes were set. There are family and friends, cheer and hurt, and of course love, making this a story worth reading. There are quite a few surprises and nice closure with a happily-ever-after. I look forward to reading the other books in the series, so I can learn more about the characters as well as Eternity Springs.