The Corpse At The Crystal Palace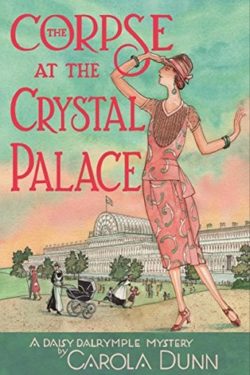 Author

Carola Dunn

Release Date

July 3, 2018

Publisher

Minotaur Books

ISBN/ASIN

9781250047052/B0791JL98B

Our Rating

Reviewed by

Michele Rioli
Our Review
THE CORPSE AT THE CRYSTAL PALACE is a tantalizing, rich, and complex mystery. In Ms. Dunn's twenty-third novel, Daisy Dalrymple is back and inquisitive as ever! This time around she stumbles upon the mysterious murder of a nanny.
Daisy has a full house! Her step-daughter, Belinda, and her two young cousins are there for an extended visit. So, to keep all the young folk entertained, an excursion is scheduled to see the Crystal Palace. It is a lovely day, with Daisy's twins, Belinda, the cousins, Nanny Gilpin and the nursery-maid. However, something is amiss when Nanny Gilpin doesn't return from the Ladies room. What happened to her?
So, Daisy treks to the lavatory and surprisingly spots a dead nanny in the toilet. Oh my! Funny thing, Belinda and the two cousins spot Nanny Gilpin chasing a third nanny. They hotfoot after her, then lose sight of her and shockingly find her unconscious body in a pond filled with dinosaur statues. What the heck is going on?
Thank heavens Daisy calls upon Tom Tring to rope off the toilet and check the body, since Daisy's hubby, Chief Inspector Alec, is out of town. Unfortunately, after Nanny Gilpin recuperates, she has amnesia. The detectives and Daisy are at a loss as to the strange events and who bumped off the nanny. What cryptic events happen next?
Skillful plotting, irresistible characters and an intriguing case about a knocked-off nanny slyly combine in THE CORPSE AT THE CRYSTAL PALACE. Daisy Dalrymple is determined as ever to help solve the case of the nanny killer. The author generously includes people from the whole series in this story. It was fun to see the whole gang together. Alec, Daisy's husband and chief detective, is stumped as to who did it, but with Daisy's nosy nose, they uncover clues and make a good team. Alec is good at throwing his weight around, but Daisy sticks to her guns and wiggles secrets out of people to Alec's chagrin. I love Ms. Dunn's characters with their charming, intelligent and witty ways. All the stories are set in the twenties and are wonderfully, crusty British! So much fun! THE CORPSE AT THE CRYSTAL PALACE is simply scandalous!