The Cottage on Pumpkin and Vine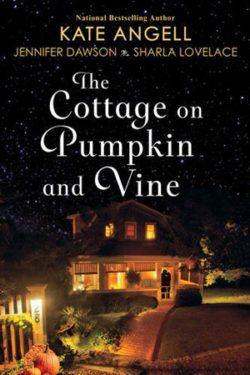 Release Date

August 30, 2016

Publisher

Kensington Books

ISBN/ASIN

9781496706881

Our Rating

Reviewed by

Jo
Our Review
THE COTTAGE ON PUMPKIN AND VINE has three novellas by three authors that I've enjoyed reading books from before – Kate Angell, Jennifer Dawson, and Sharla Lovelace. The stories all take place in Moonbright, Maine at Halloween. It's not too often that books are set at this time of year, and they are filled with some mischief, mayhem and even magic!
CHARMED BY YOU by Kate Angell
CHARMED BY YOU sets the stage for the three stories, since all take place at some point in the cottage which is a B&B owned by Amelia Rose. Grace is Amelia Rose's goddaughter and local party planner and also owns a costume shop. She is decorating the cottage inside and out for Halloween and the party hosted by Amelia Rose each year. Cade's moving company has been hired to move things and help with the heavy lifting, climbing of ladders, going on the roof to help decorate, etc. His cousins ditch him at lunchtime because Grace barks too many orders. Cade continues to work with her and their attraction grows by leaps and bounds, even though he isn't into Halloween due to something that happened when he was a teen. Could that be a deal breaker, or is the magic of the cottage at work?  
There are lots of decorations and magic in the air, especially in regards to Amelia's crystal ball! What do those who look into it see – their past, their future, or something else? There are a few twists and turns and small town happenings along with romance, loving and love. There could be a happily ever after in the making, but the story ended too abruptly for me and left me guessing at what's to come.
Angell is one of my favorite authors and this is a detour from her normal contemporary romances with baseball and the beach at their core.
http:\\www.kateangell.com
MESMERIZED BY YOU  by Jennifer Dawson
MESMERIZED BY YOU has best friends Chloe, a school librarian, and Jack, an ER doctor, front and center with the cottage and its magic playing a role. Chloe's Aunt Iris and Amelia Rose are in cahoots to get Chloe and Jack to see what's right in front of their noses since Aunt Iris and Amelia Rose believe their feelings go much deeper than being best friends. When there are suggestions of romance, both Chloe and Jack get grossed out because they don't want to lose their friendship of twenty-nine years. But could there be more for them, especially with the magic of the cottage at work?  It's interesting when they rehash some of their past romantic interests, and for some reason the other is showing signs of jealousy. What's that all about?
All Jack and Chloe want to do is get away for a couple of days and let Jack get some rest from his doctor duties. They plan to visit Aunt Iris in Maine when things go astray. There are tarot readings and cookies to go with them, and things are never the same the rest of the visit. There's also a costume party at the cottage that has Jack seeing red!  There are lots of crazy thoughts that each have about the other and some laugh-out-loud moments too. There is nice closure, a happy ending, and the loose ends tied up nicely.
I've previously read two of Dawson's books in the SOMETHING NEW SERIES and enjoyed them.
http:\\www.jenniferdawsonauthor.com
ENCHANTED BY YOU by Sharla Lovelace
ENCHANTED BY YOU has high school friends Caleb and Sidney crossing paths–where else, but at the cottage–far from where they grew up in the south. They haven't seen each other in twelve years and haven't had contact since their graduation night when things didn't go exactly as planned. Watching them take one step forward and two or more back was heartbreaking, especially since neither one really knew how the other was feeling. Once again Amelia and her magic cookies have a bearing on the outcome of this story.
Caleb, now known as Sawyer, has made a life for himself in Moonbright. He works for Amelia at the cottage and is shocked when he sees Sidney pull up. She's now a lawyer in Boston but was sent to Maine to deal with a rental agreement involving her boss's uncle. Things don't go as planned for Sidney, but that's par for the course. Amelia gets mixed up in the lease agreement as well as whatever relationship Sawyer and Sidney have or don't have. Some heartache occurs along with the loving relationship. There is wonderful closure that was unexpected and a happily ever after as well.
I've read several of Lovelace's other books and they've been enjoyable reads.
http:\\www.sharlalovelace.com