The Cottages on Silver Beach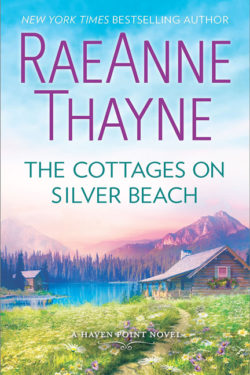 Author

RaeAnne Thayne

Release Date

June 19, 2018

Publisher

HQN

ISBN/ASIN

978-1335923264

Our Rating

Reviewed by

Dorine
Our Review
Fans of both Haven Point as well as the Hope's Crossing series will appreciate THE COTTAGES ON SILVER BEACH, the latest contemporary small-town romance novel by the gifted RaeAnne Thayne. It's no secret that I love RaeAnne's style. That doesn't mean that I love all her books equally, but I appreciate the talent she has for making relationships work, no matter the obstacles. This gift illustrates hope, dreams coming true, and working together to make life's moments as precious as possible. As a fan, I can't help but glean some type of positive message from each of her books.
Megan Hamilton appealed to me because of her photography hobby that rolls along like a freight train when she least expects it. Every artist wishes for this type of opportunity. Watching her deal with the onslaught of terrifying emotions that fear does to a person in this situation made her seem real. I loved how that hobby made her realize that her dream-come-true was right where she was at that moment – completely opposite of where she imagined her career would take her. Isn't that so true of life? How sometimes the perfect place to be is where you are right now?
Megan's real job is running her family's vacation rentals. The quaint inn and cottages are how she makes a living. It's not a job she wanted, but someone had to do it after her grandmother passed, so Megan is making it work.
Elliot Bailey rents one of Megan's cottages when he's on leave from the FBI. Moonlighting as a true crime writer, he needs the peace and quiet the vacation rental offers. Also, it's right next door to Megan – the woman he cannot forget. The truth is that Elliot is in more trouble than he wants to admit to his family. It's easier to hide out at Megan's rentals than to stay with family awaiting his sister's upcoming wedding reception.
Elliot has always been secretly infatuated with Megan. Something he never followed through on because Megan was dating his brother. When his brother was murdered, it seemed even more inappropriate. To make matters worse, his former best friend is Megan's brother, Luke. The man was accused of murdering his wife and Elliot's police force family can't prove it either way. Things couldn't be more complicated between them.
I became immediately immersed in this couple's story. Even though I missed reading book seven, I was able to catch up with what is currently happening with the characters. I especially like that we return to Hope's Crossing for a visit. I like this couple together, and I get a real sense of the settings through their love of the outdoors. An unsolved police case adds to the plot.
I've said this before, but it bears repeating. RaeAnne Thayne uses words I must look up. Loving words as much as I do, it tickles me that I learn something new in every book. That's extremely important to me. She doesn't follow what I've heard rumored, to "dumb it down" for the romance reader. It's true – I like a fast read, and if the words are simple, then I can fly through. But an author who takes the time to teach me her love of words in an excellent story is someone I'll keep reading. That doesn't happen without a thorough respect of a thesaurus and a keen understanding of the English language. I appreciate the effort because I learned three new words in this novel alone.
As much as I loved Megan and Elliott's story, I can't help but feel a strong sense of anticipation for what promises to be a very unusual love story in book nine. I'm not telling you why as it's a spoiler – just trust me and read this book soon, so you can anticipate right along with me. THE COTTAGES ON SILVER BEACH mixes great characterization with interesting settings, adding an unsolved missing person case that rattles everyone's theories.