The Cowboy Meets His Match (The Haywire Brides)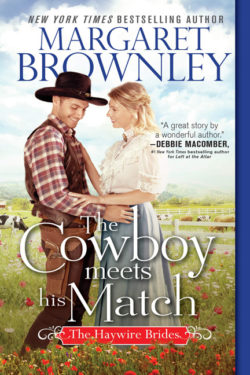 Author

Margaret Brownley

Release Date

May 28, 2019

Publisher

Sourcebooks Casablanca

ISBN/ASIN

9781492658375

Our Rating

Reviewed by

Jo
Our Review
It was nice to return to Haywire, Texas and see an accidental marriage happen almost as soon as the story opens. As THE COWBOY MEETS HIS MATCH, the second book in THE HAYWIRE BRIDES series, unfolds, one has to wonder—is it really an accidental marriage or a marriage that was meant to be? The book is set in the late 1800's, one of my favorite periods in history.
Emily is running away from her past in Boston after her uncle did unscrupulous financial deals and ended up in jail. She has no home, family, or even friends as a result and agrees to be a mail-order bride. When she arrives in Texas to meet the groom and get married, she's not sure what to think.
Stampeding cattle, rustlers, a lost girl, and a marriage in-name-only are only part of this charming story. Chase has his family ranch to run, but in order to keep it in the family he has to beat his stepbrother to the altar. What ensues is funny at times and other times moving. Emily and Chase have trouble communicating—and not just because of where they're from and how they speak so differently. She has secrets, but Chase does too.  Their lack of communicating leads to many unexpected results!
The descriptions of the land and characters enriched the story. I liked seeing how Emily slowly became enamored of it all but was sad she didn't know what she should really feel. She and Chase definitely went back and forth in their relationship. There's also a mystery to be solved due to the rustling of the cattle. The story ends nicely. I look forward to reading more in this series and returning to Haywire, Texas over and over again.
This is only the third book that I've read by Ms. Brownley, but it won't be my last. I like her take on small town life in the settling of the West, especially how her brides always get their men.