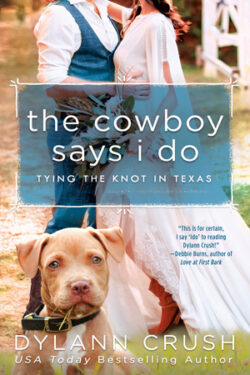 Author

Dylann Crush

Release Date

August 4, 2020

Publisher

Berkley

ISBN/ASIN

9780593101643

Our Rating

Reviewed by

Jo
Our Review
THE COWBOY SAYS I DO is the first book in the TYING THE KNOT IN TEXAS series,  and there are a lot of angst and family issues. Lacey is the mayor in the small town of Idont, but she decides they have to reinvent themselves due to the closing of a warehouse that employs a lot of townspeople. Their town has been hurting financially for a while, and Lacey gets the idea to make the warehouse into a wedding venue and change the name of the town to Ido!  
This is a cute premise, but the story often bogs down thanks to Lacey wanting to always do things her way. Her dad was the mayor before her, and when she learns about some of the ways he handled the job, she's definitely not on board. There are some shady dealings in town and at the warehouse. Bodie, the deputy in town, has his hands full, especially since his family owns it. Will he cover up what he learns or make his father and grandfather pay the price? 
I liked how the ruse Lacey and Bodie took part in played out so they could get magazine press for the town. Lacey and Bodie have an attraction but fight it tooth and nail and always seem to be getting on each other's nerves. For Pitties' Sake, a pit bull rescue, is woven throughout the story in a fun way, and what a cute name!
There is some intrigue to the story as well as a depth to the characters, nice closure, and a terrific happily ever after. And I loved the cover.  
I've read a couple of the author's books previously and look forward to reading more, especially in this series to see if the town of Ido lives up to its name!  Next up is HER KIND OF COWBOY.