The Dachshund Wears Prada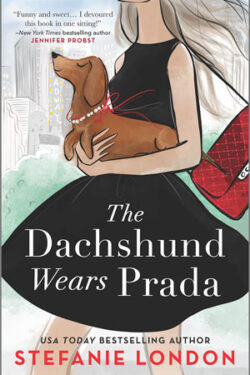 Author

Stefanie London

Release Date

May 3, 2022

Publisher

Harlequin Trade Publishing, HQN

ISBN/ASIN

9781335639837

Our Rating

Reviewed by

Raonaid
Our Review
Theodore "Theo" Garrison is New York royalty, the orphaned son of an actress and a CEO of a major book chain. He is known to the public as the Hermit of Fifth Avenue. Theo inherits his grandmother's ill-tempered, high-maintenance dachshund. When another dog sitter quits on him, he scrambles to find a replacement for Camilla. Isla seems to be the answer to all his canine problems. However, the beautiful yet caring woman threatens to disrupt his quiet, solitary life. Can Theo trust Isla? Or will she too use him as others did in the past.
Isla Thompson works as a social media consultant, until a mistake blacklists her. She hopes to eventually come back once the backlash wanes. However, she needs a job quickly to help support not only herself but her fourteen-year-old sister. Isla runs into an incognito Theo Garrison, who offers her a job as his dachshund's dog sitter. The pooch proves to be a moody mess, just like her reclusive owner, and Isla refuses to give up on either of them. Can Isla win both Theo and Camilla's trust? Will she make her social media comeback? And at what cost?
Theo tugged on my heartstrings. He may have been born into a wealthy and privileged family; however, his life had not been easy. Theo's rudeness and closed-off disposition are his defense mechanism. I understand Theo's dislike and distrust towards the press. They are partly responsible for his parents' death, and they exploited him at his weakest when he was a young boy. What I love the most about Theo is how he recognized a fellow kindred spirit in Isla. He knows that she has been ridiculed by the press like he had. However, Isla did not allow that to corrupt her kindness towards others.
Isla is such a beautiful soul. She has endured many difficulties with her humanity and kindness intact. I admire Isla's selflessness. She voluntarily steps forward to raise her half-sister when their mother abandoned them. Isla willingly sacrificed her happiness to support her sister's dreams for the future. What I like the most about Isla is her compassionate nature. She recognized that both Camilla and Theo behaved rudely, only to protect themselves. She genuinely wanted to help them let go of their hurt and trauma to truly live.
THE DACHSHUND WEARS PRADA is book one in Stefanie London's canine-oriented contemporary series, PAWS IN THE CITY. It is my first time reading this author's works. Other than the brief TWILIGHT references, it did not disappoint. I admit that the title is what drew me to this book. I am a proud dachshund mother, so I love reading any story with this dog breed.
THE DACHSHUND WEARS PRADA is a cute and uplifting tale of two souls letting go of their past wounds to find love and acceptance. I hope Scout gets a happily-ever-after. I cannot wait for the next installment!