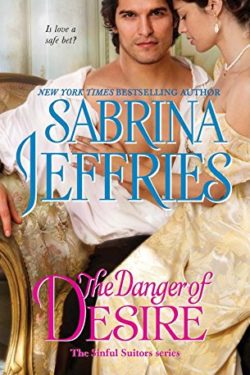 Author

Sabrina Jeffries

Release Date

November 22, 2016

Publisher

Pocket Books

ISBN/ASIN

1501144448

Our Rating

Reviewed by

Dottie
Our Review
Warren Corry, Marquess of Knightford, belongs to an organization known as St. George's Club, which was founded to protect the members' female relatives from scoundrels and fortune hunters. He feels that he owes his cousin Clarissa because of something from their past. When she asks him to check with the members of his club to see if there is any gossip about debutante Miss Delia Trevor, he gives in, although at first he believes the request is his cousin's attempt at matchmaking.
Delia has been acting strange and Clarissa is concerned that some fortune hunting scoundrel is taking advantage of her. Of course, it doesn't hurt that Clarissa has spent years trying to get her cousin wed. Suffering from nightmares from his past, which are triggered by the dark, Warren only sleeps during the day and spends the nights out and about, in the stews and brothels. So, carrying out Clarissa's request is a simple task for him. But when he discovers Delia dressing as a man, slipping out at night, gambling in the stews and using the name Jack Jones, his interest is piqued.
Since her brother Reynald's death, Delia has been searching for the gambler with the sun tattoo, a lord who cheated her brother out of everything, which led to her sibling's suicide. Reynald left behind a wife, a young son and a heavily mortgaged estate. As children of a gambler, Delia and Reynald were raised to play proficiently, so Delia knows that the man she seeks could only have won through cheating. Ruining the gambler and winning the money back from him are Delia's prime goals, although her aunt believes that they are in London so her niece can find a husband. However, that is the furthest thing from Delia's mind. But when Warren starts delving into her situation, she fears being revealed and having her mission thwarted.
Warren can't get Delia out of his mind and he wants to protect her from this dangerous game she is playing. But when she begins investigating his secrets, Warren attempts to hold her at bay while still keeping her safe. However, the attraction between them is too strong for him to keep his distance. As Delia continues hunting for the tattooed lord, she makes a startling discovery. Will she be able to trust Warren to stand by her side, or will he let her down like the men in her family have always done?
Absolutely delicious, THE DANGER OF DESIRE, the third book in New York Times bestselling author Sabrina Jeffries' SINFUL SUITORS series, is a witty, sensual historical romance that I found nearly impossible to put down until I reached the very satisfying end. The chemistry between Warren and Delia is explosive and they have more than one quality in common. Both are unconventional and highly protective of their families. I enjoyed the way that their relationship slowly developed as they each confront their pasts with the help of each other. Neither Warren nor Delia was looking for a marriage partner, but sometimes events have a way of shaping lives.
Mystery, humor, passion, engaging characters, surprising plot twists, snappy repartee, romance and true love entwine in this story, giving readers an unforgettable tale. Although this is the third book in this series, it can be read as a standalone. However, Warren does show up at places in the previous books, so to gain further insight into his character and this collection, you may want to also pick up the first two books in this series, THE ART OF SINNING and THE STUDY OF SEDUCTION. I've already read the first book and after reading this one, I ordered the second. Just seeing Ms. Jeffries' name on the book makes it a must read for me. Pick up a copy of THE DANGER OF DESIRE today and discover the deliciously romantic world of Sabrina Jeffries!