The Dangerous Billionaire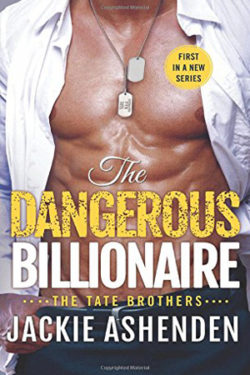 Author

Jackie Ashenden

Release Date

May 2, 2017

Publisher

St. Martin's

ISBN/ASIN

B01M2YCZV0

Our Rating

Reviewed by

BPoston
Our Review
Sullivan (Van) Tate is a Navy Seal. He loves and lives his job. When the man who raised him, his adopted father and oil tycoon, Noah Tate, dies, Van and his two adopted brothers are called home. What Van doesn't expect is that he and his brothers are now in charge of Noah's oil empire. None of the men want this responsibility, but when they discover a hostile takeover of the company is in the works by a longtime enemy of their father, they get on board to try to stop things in their tracks.
Chloe Tate grew up with three foster brothers. All three boys were adopted by her father, Noah, when they were young.  Although much older than Chloe, Van is the one she has always looked up to, but he left the ranch where they were raised years ago. She has not seen or heard from him since. She isn't surprised when he summons her to leave her home and meet with him in New York to discuss her inheritance or rather, her lack of an inheritance. Her father left her nothing in his will.
Van's father wrote each of his boys a letter they would receive upon his death. Van's letter was about Chloe. He learns that she is in danger. Her real father is after her, and Noah wanted Van to protect her. No one, not even Chloe, knows she is not Noah's biological daughter. Van is stunned to discover the truth about her. What is worse, her real father is the man who is trying to take over Noah's company. Van knows the truth will be a huge shock to Chloe, but he has to tell her what is happening, and he has to keep her safe.
This starts the romantic journey between Chloe and Van. He is a dominant Navy SEAL who will protect his family at all costs and expects immediate obedience. Chloe is stubborn and strong-willed. She believes she can protect herself and doesn't need any help from him or anyone else.
What the two really need to realize is that there is an attraction between them that has been brewing for years. Maybe if they have a casual fling, they can move on with their lives. Trying to work through the danger surrounding Chloe, dealing with the hostile company takeover, and fighting the deep feelings that are growing between Chloe and Van are all points that make this story so engaging. THE DANGEROUS BILLIONAIRE takes you on a ride between two very strong people who need to learn that you don't have to be in control all the time. Being partners only enhances the love that surrounds you.  
I really enjoyed this story and look forward to reading the next book in the Tate Brother series.