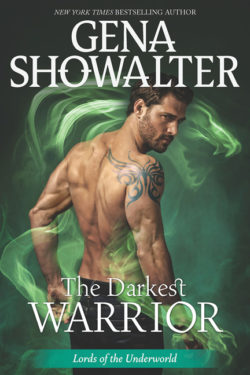 Author

Gena Showalter

Release Date

June 26, 2018

Publisher

HQN

ISBN/ASIN

978-1335498304

Our Rating

Reviewed by

B. Nakia Garner
Our Review
When an Oracle predicts that two brothers will eventually turn on each other after one of them falls in love, Sin and Puck vow to fight side by side for the rest of their lives and shield their hearts from anything serious. Sin, seeing signs that Puck wants to settle down, curses his brother with a demon of Indifference that becomes embedded in his skin. Feeling betrayed, but too indifferent to act on it, Puck deserts his brother and his realm.
Centuries later he meets with the Oracles again to figure out a way to wrench the crown from Sin to rule his realm once again. While the old prediction still stands, a new prediction means Puck must wed a girl whose heart belongs to another. What he finds is Gillian, a seemingly naive girl who has just turned Immortal and who still has nightmares of her stepfather and stepbrothers raping her as a child.
Puck saves her life through a bonding ritual and then promptly leaves her for centuries to gather resources and develop a plan to defeat his brother. Upon his return, he finds a completely different woman than the wallflower he left behind. Now, Puck and Gillian will work side by side to get the kind of life they both desire.
The page count alone may be enough to scare anyone away (almost 500 pages!) but it is definitely worth it. The author does a wonderful job of creating multiple realms filled with Lords, Mortals, and Immortals. 
Though this book heavily falls in the paranormal/fantasy genre, the subjects presented are relatable, such as sibling rivalry and building trust in a relationship. One of the best things about this novel is the natural growth of the characters. We get to see a surly and indifferent man morph into a good friend and unselfish lover. A once bratty and insecure girl grows into a confident and strong warrior. The transition of the characters as they meander through their circumstances is awe-inspiring and at times may incite tears from the reader.
This is not a book you can rush through. With the multiple characters, each with their own powers or demon possessions, it will be beneficial to take your time to absorb this story and all its intricate details. A great read.