The Dastardly Miss Lizzie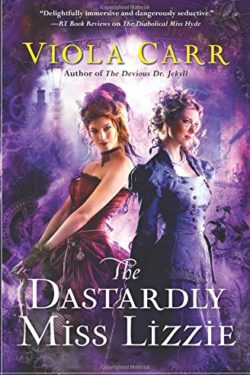 Author

Viola Carr

Release Date

April 18, 2017

Publisher

Harper Voyager

ISBN/ASIN

0062363123

Our Rating

Reviewed by

Raonaid
Our Review
Dr. Eliza Jekyll works as a crime scene physician for the Metropolitan Police. She desperately tries to escape her father's infamous notoriety. Eliza strives to protect her Inspector partner's career by helping him solve the grisly Soho Slasher case. Her alter ego, Lizzie, makes investigating the newest case problematic. A figure from their murky past returns, only to stir up long quiescent memories. Eliza struggles with Lizzie's growing dominance and dissent. Can Eliza keep Lizzie dormant long enough to solve both cases? Or will Eliza and Lizzie work together to prevent a revolution from tearing England a part?
Lizzie Hyde is Dr. Eliza Jekyll's darker and brasher other self. She grows dissatisfied with their current arrangement. Lizzie wants a separate life and existence, far different from the one Eliza lives. She hates coming in second to her goodie-two-shoes double, especially for their father's love. When Eliza betrays her, Lizzie retaliates by making her counterpart's life hell. She seizes Eliza's body and stalks London's underbelly for the real Soho Slasher to clear their father's name. Will Lizzie achieve her desire? Or will she be forever stuck with Eliza?
I have mixed feelings about both Eliza and Lizzie. There are times in the story when Eliza came across as too straight-laced and perfect for my tastes. I understand Eliza's strong desire to separate herself from her father's tarnished reputation. She tries so valiantly to make do with the shoddy hand fate dealt her. I empathize with her constant struggles in corralling Lizzie's rowdy impulses to keep them both out of an asylum. But what I liked the most about Eliza is her fortitude to maintain a profession in a male-dominant era.
Lizzie and Eliza's relationship reminds me of oil and water, too dysfunctional to ever be compatible. There are moments in the book when Lizzie's interference annoyed me, especially on a serious case where Eliza needed her full concentration. Yet, on the other hand, I understand the source of her frustration and dissatisfaction. I sympathize with Lizzie for feeling second-best to Eliza.
THE DASTARDLY MISS LIZZIE is book three in Viola Carr's steampunk series, ELECTRIC EMPIRE. Unfortunately, I have not read the first two books in the series, so I didn't understand Eliza's previous struggles and concerns with Lizzie. The book did drag in some areas, especially the beginning, which made it difficult for me to engage in the story and with the characters. My other nitpick about the story is how the author changed her writing style for Lizzie's point-of-view. I understand the author's reasons to differentiate between the two personalities, but it made it tough to assimilate.
THE DASTARDLY MISS LIZZIE is a brilliant mixture of science fiction, steampunk, and gothic mystery. I like how the author put enough steampunk gadgetry in the story to appease my needs. I also love the depth and dimension Viola Car infused into her world.