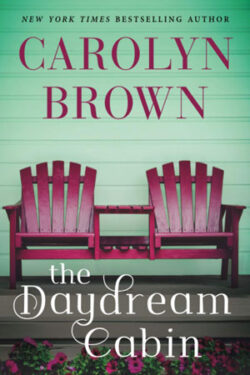 Author

Carolyn Brown

Release Date

December 8, 2020

Publisher

Montlake Romance

ISBN/ASIN

9781542025584

Our Rating

Reviewed by

Jo
Our Review
Ms. Brown does it again with another 5 star read! THE DAYDREAM CABIN held my interest from the first page to the last. I couldn't put it down and read it in less than a day. 
There is a depth to the story as well as to the multitude of characters. Piney Wood Academy has a lot of heart, discipline, and tough love. Run in the style of a military boot camp, the eight weeks that the nine teenage girls spend there will be the hardest of their lives.
This story revolves around Jayden and the soon-to-be-owner of the academy, Elijah, whose aunt and uncle currently own Piney Wood but have plans to retire. Jayden is substituting as a counselor for the summer while her sister goes off to Europe with a group from the school where she teaches. She and her sister have a non-existent relationship, and we learn about them and their feelings over time.
The story has a nice flow to it. As we move through each day, we see the structure, schedule, and routine that helps the teenagers overcome and account for their actions. The addition of the animals was a nice touch. There is wonderful closure with the epilogue leading to the happily ever after of this lovely romance. I loved how the book ended both before and after the epilogue.
THE DAYDREAM CABIN is filled with wonderful pacing, terrific emotion, and a great story bringing two deserving characters together.
Ms. Brown is one of my favorite authors of contemporary romances with or without cowboys. Give her books a try if you haven't already. You won't be disappointed.
A recommended read!