The Determined Lord Hadleigh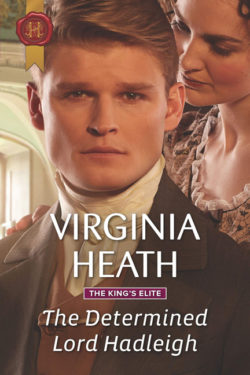 Author

Virginia Heath

Release Date

June 18, 2019

Publisher

Harlequin HIstorical

ISBN/ASIN

9781335635211

Our Rating

Reviewed by

Jo
Our Review
THE DETERMINED LORD HADLEIGH is the fourth book in THE KING'S ELITE series, and it didn't disappoint. We are reunited with the spies we've met before, known as the Invisibles, along with their superior and Lord Hadleigh, who is the government lawyer.  Lord Hadleigh is now trying the smugglers and their boss, and things get interesting. He has a soft spot for one of the traitors' wives, Penny. The story takes place in England in 1820, and the prologue sets the stage of what is to come.
Penny had a horrible marriage and agrees to take the stand at her husband's trial.  Things don't go as Lord Hadleigh predicts, since Penny actually speaks out against her husband. Now penniless, Penny finds that trying to take care of her young son is more than difficult. When her friends and Lord Hadleigh try to help her without her knowing, Penny is not happy. She's a strong woman who's been beaten down but wants to fend for herself.
As the story brings the threads together from the first three books in the series, we see the importance of the stories that came before. Although you can read this book as a standalone, it's best to read the other stories first for a richer experience. The characters all have a depth to them, especially Hadleigh and Penny. The descriptions of the setting and time period made me feel like I was there. I could feel the emotions rolling off both Penny and Hadleigh, who are both strong-willed and not the best at communicating. But they have a definite attraction and sparks do fly!
The story flows nicely with a few twists and turns. There is romance and love throughout. The epilogue takes place ten years later and fills us in on a lot that happens in their lives. I wouldn't mind meeting up with them all again in a Christmas story (hint, hint) although this is the final book in the series.
Ms. Heath is one of my favorite authors of books set in Regency England. I always look forward to what her next books or series will be about.