The Devil and the Heiress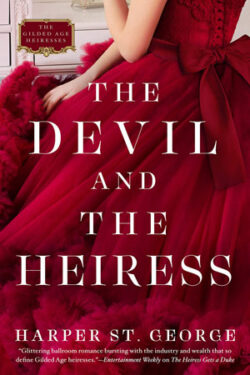 Author

Harper St. George

Release Date

June 29, 2021

Publisher

Berkley

ISBN/ASIN

9780593197226

Our Rating

Reviewed by

Michele Rioli
Our Review
Exciting, enchanting and expertly executed, THE DEVIL AND THE HEIRESS, is an outstanding series! Ms. George's second novel stars Violet Crenshaw, a stunning American heiress who is determined to be a published romance author. Her parents want her to marry an English lord that Violet finds boring. She has no intention on wedding him. So, she rebels and runs off only to have her plans thwarted by a delectable, dashing man, Christian Halston, Earl of Leigh. Be still her beating heart!
Christian is smitten with the intoxicating Violet. However, he requires funds to rebuild his estate, marriage to her would greatly benefit it and schemes to offer Violet transportation during her dash to freedom to possibly win her heart. During their ride, Christian and Violet open up to each other. Instantaneous attraction and desire develops between them but trust issues hold them back. Violet's beauty and vivacious personality warms his heart, peeling back the layers of his shuttered heart. He is quite taken with the lovely lady and balks at the notion of another man marrying her. His body desires her and she completes him. He is known as a scoundrel and Violet is understandably hesitant to offer him more. Christian devises a plan to gain her hand in marriage. Will he succeed?
A dangerous love, a daring escape and more fill the pages of Ms. George's new story, THE DEVIL AND THE HEIRESS. This is a sparkling gem of a love story, filled to the brim with Victorian wit, romance, and heart-stopping heat. Road trips in a carriage don't get much steamier than this! A runaway heiress and a wickedly handsome Earl conspire to flee a marriage of convenience only to fall in love along the way. This sexy, touching book joins two brave, conflicted souls who are navigating emotional turmoil and delivers them to the redemptive powers of love. Ms. George has the gift of making a relationship seem utterly real and compelling. I absolutely adored Violet's personality and rooted for her all the way! Plus, Christian's adoration of Violet's bravery and determination to make her own way in the world, touched my heart. He is truly a brave, brilliant man! Loved, loved this book! THE DEVIL AND THE HEIRESS is like a delicious candy bar, it just keeps getting better and better!