The Devils Triangle (A Brit In The FBI Book 4)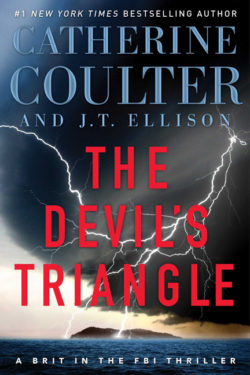 Release Date

March 14, 2017

Publisher

Gallery Books

ISBN/ASIN

B01INMZL00

Our Rating

Reviewed by

B Poston
Our Review
This is another exciting adventure for the Covert Eyes team.  
THE DEVIL'S TRIANGLE by Catherine Coulter and J.T. Ellison merges fantasy and reality. Special Agents Drummond and Caine are called in to help Kitsune, known as The Fox, an international thief they both would like to capture. The Fox is a master of disguise, and this time she appears to have stolen the staff said to have belonged to Moses.
Upon delivery of the artifact to whomever hired her in Venice, someone tries to kill her. While escaping, she overhears a bizarre conversation. Two people are proudly talking about their grandfather draining the Gobi Desert and causing a massive sandstorm to hit Beijing. None of the conversation makes any sense. When she finally makes her way home, she discovers her husband kidnapped and a note telling her to return Venice or her husband will die. She is in over her heard and she needs help.  
Kitsune contacts Special Agent Nicholas Drummond and Special Agent Michaela Caine, requesting help to rescue her husband. In exchange, she has information they need to know regarding the crazy information she overheard.  
This begins the roller coaster ride. Special Agents Drummond and Caine no sooner arrive in Venice with their team when bullets start flying. Pretty soon it becomes apparent that something truly incredible has happened. There are weather anomalies happening around the world that shouldn't occur. Is it possible someone has found a way to control mother nature? The Covert Eyes team is unraveling the threads of this mystery, and what they find is nothing short of astonishing.
The book has action, mystery, history, fantasy, adventure… The list goes on. If you are a fan of the Indiana Jones movies, you will instantly enjoy THE DEVIL'S TRIANGLE. It's one of those stories that, as I was reading it, I was casting in my mind who would play the characters for the movie. This was a great read, and with Catherine Coulter and J.T. Ellison as the authors, you expect nothing less.
http://www.catherinecoulter.com and http://www.JTEllison.com