The Discerning Gentleman's Guide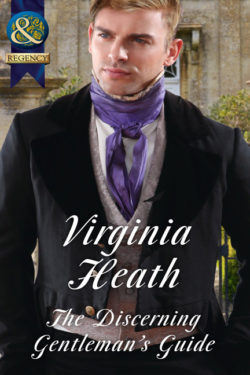 Author

Virginia Heath

Release Date

November 1, 2016

Publisher

Harlequin Historical

ISBN/ASIN

9781488004490

Our Rating

Reviewed by

Jo
Our Review
THE DISCERNING GENTLEMAN'S GUIDE by Virginia Heath was a fast paced read with quite a few twists and turns to the story. Set in England in the early 1800's, the book made me chuckle when I read excerpts of the guide that Bennett, a Duke, wrote and believed was the best way to actually choose a bride. Of course, it was his deceased father's advice that he was parroting back, not realizing how many conflicts there were from chapter to chapter in the book until they were pointed out to him by Amelia, his aunt's companion. Nor did he realize how his perspectives could change based on the way he looked at something until Amelia pointed it out.
Bennett–or Ben as she preferred to call him when she wasn't calling him Your Grace–is from a different side of the tracks than Amelia. Or is he? She has had so many hardships in her young life but as a result has championed the cause to help the poor and underprivileged as a Radical. But is she really? Bennett doesn't understand the reasons why she does what she does or how she manages to get into so many scrapes, but little by little Amelia tells him some truths and half truths to let him know her thoughts and feelings, as well as how she's lived. His aunt knows some of what has formed Amelia but not all, so when it's revealed little by little it's eye-opening to all.
Bennett's approach to life is not to Amelia's liking, but they do have immediate chemistry that neither knows how to deal with. She can't believe he's whittled down his list of potential brides, known as the Potentials by the family (based on the guide). His Uncle George is fun to see in action, especially his irreverence of the ton. He and Amelia get along famously. Bennett's butler, Lovett, is a hoot and quite cheeky. There is a depth to both the characters and the story that I wasn't expecting.
The story packs in family and friends, servants, the Ton, the Potentials, Parliament, and more.There is wonderful closure and a happily ever after that was better than anticipated. Each chapter began with an excerpt from the guide, which was a nice touch and gave insight as to what was to come.
I have read several other books by Heath and plan on reading many more. Historical romances set in Regency England are one of my favorite genres and Heath has a great handle on all things Regency!