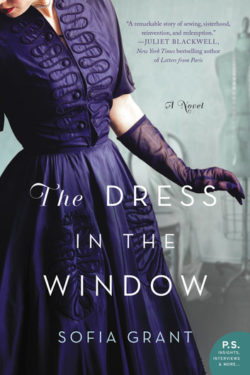 Author

Sofia Grant

Release Date

July 25, 2017

Publisher

William Morrow

ISBN/ASIN

978-0-06-249972-1

Our Rating

Reviewed by

Diana Mcc
Our Review
THE DRESS IN THE WINDOW by Sofia Grant, could have been a great read, but for me it fell short. The convoluted lives of two sisters, Peggy and Jeanne, one lost her husband and the other her fiancé to the battle fields of WWII. This is a post war story and tells of the lives these three women forged moving forward. The sisters are destitute and living with Peggy's mother-in-law in a grimy mill town in Pennsylvania.
Both the sisters long to be involved in the fashion industry. Peggy designs clothes on a pad of paper, and Jeanne is a brilliant seamstress. I wish the author could have developed this theme more. Instead, we are taken on a journey of sibling jealousy and rivalry.
Peggy abandons her daughter to the care of her mother-in-law and sister and flees to New York to make her mark in fashion. Chapters later the reader finds out why Peggy left her very young daughter
If the three women had been closer and talked with each other a lot of the problems contrived by the author would have been solved. Instead they think they know what's best for each other, but they never discuss it with each other.
The blurb sounded like a story about fashion design, sewing, sisters etc. However, I felt it was a disorganized story with improbable plot twists about utterly unlikeable characters. I didn't care for the author throwing in at unlikely intervals the sex life of the mother-in-law. I didn't see the connection to the plot.
In the end the author rushes through to bring mother and daughter back together and the sisters make up. Again, it feels contrived, and rushed.
The best part of the book was all the sewing details and each chapter started with an informational blurb about a different fabric. The author did do her homework.
I received a copy of this book for my honest review from Romance Junkies Reviews.