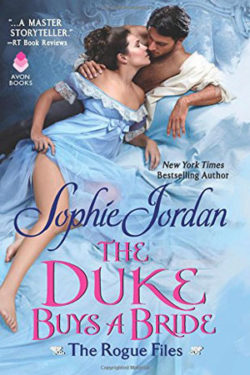 Author

Sophie Jordan

Release Date

July 24, 2018

Publisher

Avon

ISBN/ASIN

9780062463647

Our Rating

Reviewed by

Vanessa E.
Our Review
You must read this book! Too strong a recommendation? I think not!
From the opening sentence, I was completely and totally captivated by the witty writing and the masterful development of the romance in THE DUKE BUYS A BRIDE by Sophie Jordan.
We find our hero, Marcus, the Duke of Autenberry, has stumbled across a country market day that includes the auction of Alyse Bell, a woman whose husband, in name only, desperately wants to remove her from his responsibility, having fulfilled a promise to her family.  
Marcus surprises himself by intervening in Alyse's fate and convinces them both that she will become his Housekeeper for his Northern estate and not his wife, as the bill of sale proves otherwise. 
Alyse, educated by her scholarly but ill-fated father, surprises Marcus on their journey to Scotland with her knowledge and directness. But once she piques the attention of a Scottish Laird, Marcus realizes Alyse isn't destined to be his housekeeper. She's destined for much, much more.
RJ RECOMMENDED READ!