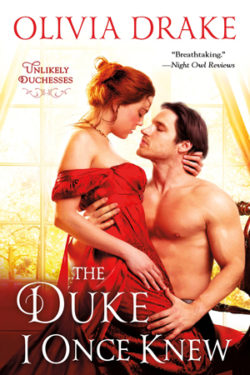 Author

Olivia Drake

Release Date

December 31, 2018

Publisher

St. Martin's Press

ISBN/ASIN

9781250174376

Our Rating

Reviewed by

Michele Rioli
Our Review
THE DUKE I ONCE KNEW stars a stunning, serene, sassy woman, Abigail Linton. She is ready to start a job as a governess at the Rothwell estate next to her family house. After many years of tending to her elderly parents, now deceased, and serving as a volunteer nanny for her older sibling's children, Abby is determined to experience life anew before she turns thirty. Her first young crush was Maxwell Bryce and that is where Abby will be employed. Max hasn't been home for over fifteen years, so Abby isn't too concerned about running into the guy who wounded her young heart. Max is now the Duke of Rothwell since his father's death, lives in London and is incredibly handsome. Women flock to him and flirt with him, hoping to secure a wedding knot to a wealthy duke. However, curse the winds of fate because Max unexpectedly returns with friends and a female darling in tow!
Abby is stunned upon Max's return with a gorgeous gal on his arm. Be still my beating heart because he has grown into a confident, eye-catching cad! Max is surprised to see Abby also. He is known in London circles as a scandalous scoundrel and Abby isn't too happy about that, especially since her young charge is his sister and is in residence. Max will have to curb his wild ways, now that he is back. Max doesn't know what to think either. Their history together as teens was infatuation. They promised to write to one another when Max left after his mother's passing, but neither received word. Now, Abby harbors negative feelings towards Max and Max is testy with Abby. Will Max and Abby fall in love all over again? Or is their romance over?
THE DUKE I ONCE KNEW is an enormously enchanting story about forgiveness, spurned young love, and romantic reunions. Ms. Drake writes hard to resist, inventive, likable stories. This book is no exception with a lovely of age woman and a mischievous, cad of a man who have a history together. They meet years later and each harbor negative feelings towards each other. Can they move past that and rekindle their love? Come along where romance is ripe, secrets are revealed, and love is on the horizon. Fall in love as I did with the devilishly, divine characters. Tempestuous and tantalizing, THE DUKE I ONCE KNEW is about a reluctant couple who couldn't be more wrong about being right for each other. Absolutely sizzling and sparkling!
Recommended Read