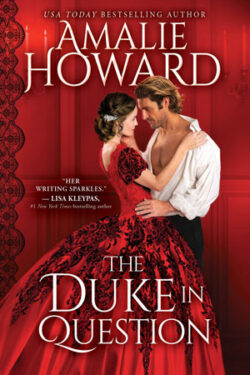 Author

Amalie Howard

Release Date

November 8, 2022

Publisher

Sourcebooks Casablanca

ISBN/ASIN

9781728262635

Our Rating

Reviewed by

Raonaid
Our Review
Lord Valentine Medford, the Duke of Thornbury, is a former agent of the Crown. He agrees to assist a fellow operative to apprehend the elusive rogue spy, Kestrel. Instead, Valentine encounters his friend's beautiful yet infuriating half-sister. He rescues the lady from a precarious situation, only to discover she is Kestrel. Now Valentine must protect Bronwyn from the dangerous men coming after her. Will Valentine be forced to give Bronwyn to the authorities? Or will he find the true mastermind behind her missions?
Lady Bronwyn Chase is the half-sister of the Duke of Ashvale. She secretly becomes a covert operative to make a difference in the world. Bronwyn boards one of her brother's ships for America with information that could be beneficial to its civil war. She never expected to find Valentine, her brother's best friend, on the vessel. Bronwyn must elude him or risk blowing her cover. She soon finds herself way over her head. Can Bronwyn complete her mission without detection? Or is there more at stake than what she knows?
It took me a while to warm up to Valentine. He is a man who keeps his emotions encased behind a wall of ice. That allowed him to succeed in his former profession as a spymaster. Emotions in espionage is dangerous, and it could be an agent's downfall. I like how Valentine grudgingly taught Bronwyn tactics in self-defense. It sent against his better judgement, but he wanted to ensure that she survived their ordeal. What I love the most about Valentine is how he secretly admires Bronwyn's pluck. She never once bowed down to him; instead, she kept him on his toes. Valentine never knew what to expect from her at any given time.
Bronwyn is a nice surprise. She is a woman who is not content to adhere to the rules and regulations society has for noblewomen. I like how Bronwyn is different from other members of Polite Society. She abhors intolerance and bigotry. Bronwyn hopes she can lead change in the way people, especially the ton, view and think of multiracial people. What I adore the most about Bronwyn is her mettle. She prefers to stand on her own two feet than be dependent on another, especially a man. Bronwyn wants more for her life than what is expected, and she is not afraid to take action to achieve it.
THE DUKE IN QUESTION the third book in Amalie Howard's historical romance series, DARING DUKES. Sadly, I have not read the previous two books in the series. That did not hinder my ability to follow and enjoy the storyline or the characters. There is no on-going plot. However, the hero from book two, RULES FOR HEIRESSES, plays a part in the story. I will have to check that book out. I have only read one other book from this author, and I noticed this story is a lot spicier than that one. There were moments when it seemed excessive, but overall, it did not bother me much.
THE DUKE IN QUESTION is an engrossing and risqué enemies-to-lovers and brother's best friend tale. I adore the spy/covert operative angle. I will certainly be looking into the author's backlist. I cannot wait to see what she has in store for this series.