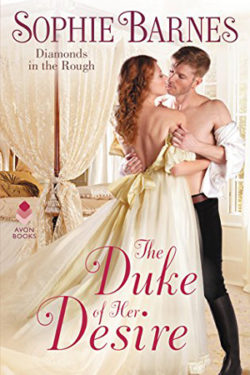 Author

Sophie Barnes

Release Date

December 26, 2017

Publisher

Avon

ISBN/ASIN

9780062566829

Our Rating

Reviewed by

Diana Mcc
Our Review
Thanks to Romance Junkies Reviews for giving me this book to read in return for an honest review.
THE DUKE OF HER DESIRE is the second book in the Diamonds in the Rough series. I did not read the first book. This book does refer to her brother's story from the first book some, but it is still a standalone book.
Thomas Heathmore, Duke of Coventry, is asked by his best friend to look after and guide his sister through society while his friend is out of the country.
Lady Amelia Matthews, is smitten with Thomas by the second chapter. It seemed a little rushed in my opinion. He on the other hand has many sexual thoughts about the Lady in question, and yet fails to communicate it to her, because of a secret he is keeping.
Amelia is keen on using her money to start a school in the downtrodden area of London where she was raised. (First book tells her brother's story, explains how he is raised up to a Duke.) She wants to give back to the old community.
Thomas agrees to help with her plans for a school, in the hopes of getting her to attend the society balls, and perhaps snag a gentleman to marry, as Thomas had promised her brother.
Amelia is in danger from the local mob boss, at one point, and that is the turning point for the romance. They both have a scandalous background and together they form a sort of friendship.
Even as Amelia continues to ignore Thomas' advice on the school project, she finds it almost impossible to ignore his heated touch.
The dialogue is snappy. Here is my favorite part, they are at a ball and she makes a mistake dancing:Thomas:"What you need is–"
                                             "Shh!"
                                              He blinked. "Did you just shush me?"
I found the story refreshing and the chemistry hot! A really good read!!!