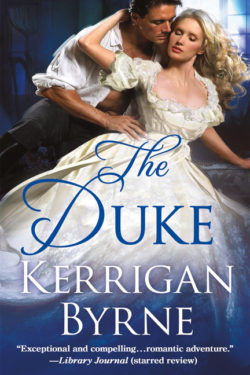 Author

Kerrigan Byrne

Release Date

February 7, 2017

Publisher

St. Martins

ISBN/ASIN

1250118247

Our Rating

Reviewed by

Raonaid
Our Review
Collin "Cole" Talmage, Duke of Trenwyth, inherits the title when an unfortunate accident claims his parents and older brother's lives. He treats his fellow soldiers to a night out at a brothel before leaving them to assume his new responsibilities. Cole encounters a woman there who assuages his grief. Thoughts of her help him endure being a prisoner of war. Free of his captors but mentally and physically scarred from the ordeal, Cole searches for his precious pure-hearted Ginny when his annoying, upstart-of-a-neighbor distracts him from his goal. Can Cole battle the ugly monster inside to protect Imogen against her would-be attacker? Will Cole figure out Imogen is in truth his Ginny?
Imogen "Ginny" Pritchard works two jobs to pay off her deceased father's debts and to support her mother and younger sister. While working her night job, she meets an anguished Collin Talmage and spends one memorable night in his arms. Imogen sees a much-changed Collin a year later when he is brought to her hospital, but he unfortunately does not recognize her. With her circumstances greatly improved, she decides to dedicate her time helping other women in need. Imogen is forced to rely on a surly Collin to keep her safe from a murderer of women who resemble her. Can Imogen help heal Cole's inward darkness without him revealing her secrets?
Cole is the first maimed hero I have read in the regency genre, something I discovered that I enjoy. He has seen and experienced the worst of the world's ugliness during his career as a soldier. I empathize with him as he wars with his inner monster, fighting daily to keep the darkness from fully consuming him. Cole accepts the inward and outward scars he received as a prisoner of war, learning how to use his new weaknesses as strengths. There were moments when I wanted to smack Cole for his conceited airs and meanness, especially towards Imogen.   
Imogen is such an inspirational heroine. She deals with many hardships and indignities to provide for her mother and younger sister without complaint. I adore Imogen's compassion for her patients, doing all she can do to make their stay in the hospital comfortable. I love how she remains passionate about her charity to help the less fortunate, her way of paying-it-forward to give back the kindness she herself received. What I like the most about Imogen is her refusal to cowl down in the face of Collin's bullying. Instead, she recognizes it as a defense mechanism and takes him to task regarding his haughty rudeness.
THE DUKE is book four in Kerrigan Byrne's historical series, VICTORIAN REBELS. I love how the author brings back beloved characters from the previous books to play helpful and important roles in the current one. The story can stand alone, however, to understand the characters' connections and histories, it is best to read the prior books in order.
THE DUKE is a dark yet promising tale of love quelling one's inner darkness enough to enjoy all that life can offer. I hope Inspector Morley will be the hero in the next installment of Kerrigan Byrne's delightful series. I did not care for the Scotland Yard inspector at the start of the series, however he steadily grew on me with each book.