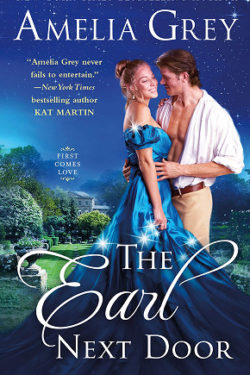 Author

Amelia Grey

Release Date

May 28, 2019

Publisher

St. Martin's Press

ISBN/ASIN

9781250214300/B07H7C2XZ2

Our Rating

Reviewed by

Michele Rioli
Our Review
First appearances can be deceiving when THE EARL NEXT DOOR barges into the Countess of Wake, Adeline's home and sees her in a sexy undergarment, secretly admiring her unabashed beauty. Lyon, Earl of Lyonwood, was informed that his neighbor might be opening a pleasure house. A steady supply of beds were seen being delivered, with women coming and going at all times of the day. Lyon's assumption is wrong, as Adeline angrily points out and explains that she's opening a girls boarding school behind her house. She soundly smacks him after his offensive remark. When they finally learn each other's names and titles, they are quite embarrassed. Incredibly, attraction sizzles between them. Adeline won't soon forget sparring with such a brazen, good-looking man, nor will Lyon forget such a forthright, fabulous woman.
Adeline lost her husband a couple of years ago and is enjoying her freedom. Her late husband was controlling and concerned only with Adeline bearing his child, but sadly she couldn't conceive. She is eager to reenter society along with her two best friends. All three women lost their husbands in the same shipping tragedy. They jointly open a boarding school to ensure a better life for the young girls whose fathers drowned in the boating disaster. Adeline isn't interested in marrying after her terrible marriage. However, the Earl of Lyonwood is stuck in her mind, with his tantalizing, uptight ways. Inexplicably, their paths cross more than once over upsetting circumstances. Funny though, they seem to love staring at each other, and touching, which leads to kissing.
Lyon is determined to court Adeline, only she isn't interested. Can Lyon change her mind about love, since they can't seem to quit holding each other?
THE EARL NEXT DOOR is a story of a stubborn couple who are brought together by a misunderstanding. Adeline, Countess Wake, is a gorgeous widow and along with her two best friends, they open a boarding school for girls after a tragedy takes the lives of many men. Adeline isn't interested in men or love, but her next door neighbor, Lord Lyonwood, oh, what a devastatingly, handsome man! Lyon is looking for the perfect lady to love and he may have just found her. Adeline might chafe his sensibilities but her beauty is unparalleled! They are drawn to one another in spite of their differences. Can Lyon break down Adeline's barriers? I loved Ms. Grey's plot, the push-pull of Adeline and Lyon's relationship, and who would give in first. I sincerely enjoyed this new series and all the charismatic, spirited characters. THE EARL NEXT DOOR is like sizzling hot fajitas. It is so delicious that you don't want it to end!
Recommended Read