The Earl Takes a Fancy: A Sins for All Seasons Novel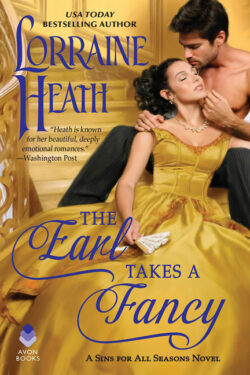 Author

Lorraine Heath

Release Date

March 31, 2020

Publisher

Avon

ISBN/ASIN

978-0062951908

Our Rating

Reviewed by

Dianamcc
Our Review
THE EARL TAKES A FANCY by Lorraine Heath is the fifth book in the series A Sin for all Seasons. It's excellent and very entertaining. I had read the first four books and really enjoyed them too. But this book can be read as a standalone book.
When Matthew Somersby, the Earl of Rosemont's, young manipulative wife dies and his year of mourning is over, he is overwhelmed with women eager to become his new countess. He doesn't know who to trust and doesn't want to be tricked into another cold, unhappy marriage. But he longs for someone to love. To escape from the pressures of the marriage mart, he rents a house in a neighborhood the ton would never frequent.
Fancy Trewlove dreams of marrying for love. Her mother's dream is for Fancy to marry into the nobility. Fancy is an educated lady with good manners, and she would make a perfect high society wife. But first she has to find someone who will overlook her illegitimacy and scandalous family.
Fancy loves books and owns the bookstore in her neighborhood. When a captivating stranger walks into her bookshop, a friendship is born. Soon, he's all she can think about.
A fun love story as Matthew can just be a friend and not an Earl. Fancy values the friendship with Matthew, while also trying to please her mother.
These two have a lot to overcome to reach their Happily Ever After. The seduction scenes are hot.
I really enjoyed THE EARL TAKES A FANCY and will definitely read the next book in this series.