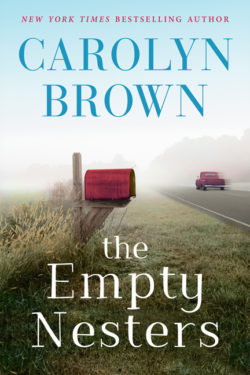 Author

Carolyn Brown

Release Date

August 20, 2019

Publisher

Montlake Romance

ISBN/ASIN

9781542043007

Our Rating

Reviewed by

Jo
Our Review
THE EMPTY NESTERS drew me in and was an emotional read from start to finish.  The prologue set the stage, and the epilogue tied up loose ends, but I would have loved the book to go just a little further. This was a quick read that had me turning the pages far into the night.
We first meet Carmen, Diana, and Joanie along with their military spouses and daughters when they move into their new homes in Sugar Run, Texas, away from the military base, thirteen years before. The ladies' husbands were in a Special Forces group. Since they were on the same team, the men were gone at the same time, often for months at a time. The families lived on the same street and met their new neighbors, Tootsie and Smokey, on their moving-in day. They all got along fine. Tootsie and Smokey never had children so they "adopted" the new families as theirs, and we watch how their friendships deepen throughout the years.
As their lives change due to deployments, death, growing up, and the wisdom that comes with age, we are there every step of the way. When their daughters all decide to enter the military, just like their fathers, their empty nests are looming for the ladies. Tootsie loses her husband the month before and invites the ladies to travel with her to say goodbye to Smokey. As they embark on their great adventure in Tootsie's motor home, none of them are aware of how their lives will change.
Smokey's nephew, Luke, who travels with them as their driver, is a nice addition to the story. I liked how Tootsie talks to Smokey all the time, and how she hears his responses. I also thought it appropriate that some of the others continue to hear his wisdom whispered in their ears at just the right moment.
The story is filled with emotion as the journey is as much emotional as physical. But always, the four women are there for each other. And Luke turns out to be there for all of them. The travelers begin to hold weekly meetings of the empty nesters, providing that emotional connection and plenty of laughter. Their lives continue to change both on and off the trip, even once they arrive home. There is some closure with the epilogue and changes coming, and it's a heartwarming story even with the few tears I shed along the way. I would love to be reunited with the characters a few years down the road in a holiday novella (hint, hint).
Ms. Brown has fast become one of my favorite authors, whether she's writing women's fiction, contemporary, historical, or cowboy romances. I have added some of her books to my always growing TBR pile. I look forward to reading them all!