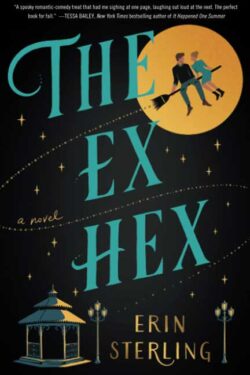 Author

Erin Sterling

Release Date

September 28, 2021

Publisher

Avon

ISBN/ASIN

9780063027473/B08RZ56MF3

Our Rating

Reviewed by

Michele Rioli
Our Review
THE EX HEX is a ghoulishly chaotic, comical and charming paranormal novel. Vivi Jones, a pretty witch, is also a history professor at a college in Graves Glen and helps her cousin Gwyn run a witch souvenir store in town. However, she had her heartbroken years ago after a fling with Rhys Penhallow, who is one of the town ancestors. So, Vivi and her cousin Gwyn put a curse on Rhys after one too many vodka shots. Her aunt warned her not to mix Vodka with witchcraft. Gwen and Vivi doubt the spell even worked.
Rhys returns to town all these years later to adjust the town's ley lines. Rhys runs into a caldron full of magical problems when he tries to fix the lines. Oops! Looks like the curse worked.
Tingling sparks fly between Rhys and Vivi. Oh no, their attraction is still off the charts hot! Vivi's ex hex is apparently working, since there is one disaster after another hitting Rhys. The town's annual fall festival is nearing and the town is overrun with killer toys, a vengeful ghost, and a host of other catastrophes. Will Vivi and Rhys discover a way to rescue the town and break the curse before disaster strikes?
THE EX HEX is non-stop action, spellbinding, and lovable! Witches, ghosts, a talking cat, and more, fill the pages of Ms. Sterling's supernatural story. I absolutely love all the quirky, feisty characters! The sizzling attraction between Rhys and Vivi is magically delicious! I speedily read the story to see how they were going to undo the curse on Rhys. It took girl power and then some. This book so compelling that I couldn't put it down! THE EX HEX is addictive, adorable and great witchy fun!