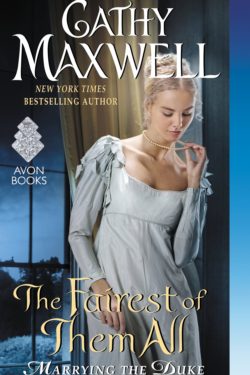 Author

Cathy Maxwell

Release Date

May 31, 2016

Publisher

Avon

ISBN/ASIN

0062388630

Our Rating

Reviewed by

Dottie
Our Review
Lady Charlene 'Char' Blanchard, the daughter of the infamous Lord Dearne knows how precarious life can become. At eight, she lost her beloved father and six months ago, Char's uncle cut off her funds. Now, at the age of nineteen, Char is living with her aunt and has become quite good at picking pockets. The idea of getting back at those who had preyed on her father's weakness, taking all he owned, appeals to her. Still, she dares not let her aunt, who is trying to support them through her acting, know where the money is coming from. When asked, Char responds that her uncle sent it. They are close to being evicted when she spots a cocky young man brandishing a fat purse. Disguised as a boy, Char steals it and is almost immediately captured by Lord Whitridge. Managing to successfully escape, Char arrives home to the news that she has been invited to a ball. Thanks to her beauty and prized bloodlines, Char has been handpicked to be Gavin, the Duke of Baynton's, new bride. All she has to do is play the part she was born to play and charm a duke she's never met before. However, when the duke turns out to be the sexy stranger who tried to capture her, Char believes the gig is up.
Jack Whitridge, the duke's missing twin brother, recently returned to London. As a boy, he was kidnapped and grew up in America with the man he considers his father, who recently died. Now, Jack considers himself an American, but he needs his family connections to prevent a war between England and the country he considers home. When Jack spotted the thief he, at first, thought he was chasing an urchin, until her hat fell off and her hair tumbled down. The sight of her long, white blond hair left him dumbfounded and in the ensuing tussle, he was toppled by her low blow. Meeting her later, as his brother's love interest, Jack realizes that she is not cut out to be a duchess, but perhaps she can help him save his adopted country from war with England. However, he doesn't count on losing his heart to her as he discovers she is not who he thought she was.
Char knows that marrying the duke will give her aunt security so she will no longer worry about meeting the rent and providing food for them. But her heart belongs to his twin brother. Can she have a happy marriage with the duke when her heart belongs to another? Who will she choose in the end; the duke who provides the security she needs or his brother, the man she loves?
An exciting tale, THE FAIREST OF THEM ALL, the second book in New York Times bestselling author Cathy Maxwell's MARRYING THE DUKE series, is a sweet, yet sensual, historical romance that is sure to captivate readers from the very beginning. Char tries so hard to help her aunt with their expenses, but it seems like she runs into trouble from all sides and is forced to lie time and again. Her father used to tell her to look for the man who will slay dragons for you and that is exactly what Jack does. But I still could not help feeling bad for his brother, the duke, who had already lost one bride-to-be to his youngest brother. However, there was little chemistry between the duke and Char, whereas the passion between Char and Jack was definitely hot. So it is obvious not far into the story that they belong together.
There seem to be so many secrets and to keep them hidden, the lies begin to build up, but slowly, a little at a time, all is revealed. As might be expected, Gavin, who was raised to be a duke, is much more uptight than Jack, who grew up in America. Char will keep you guessing right up to the end as she feels compelled to do what her aunt wants by marrying the duke, but at the same time, her heart yearns for Jack.
This story, a reprint, can be read on its own, but for more insight into the series and additional entertainment I recommend that you also read THE MATCH OF THE CENTURY, which is the previous book in this collection. I look forward to reading the next installment, DATE AT THE ALTAR, which is Gavin's story. It is due to release October 25, 2016.