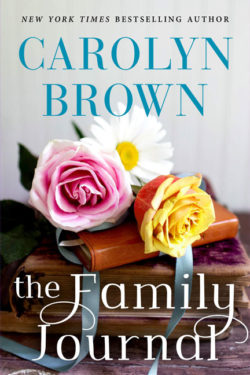 Author

Carolyn Brown

Release Date

November 12, 2019

Publisher

Montlake Romance

ISBN/ASIN

9781542015370

Our Rating

Reviewed by

Jo
Our Review
Carolyn Brown does it again, and this is her one-hundredth novel according to her website. All I can say is WOW! Her stories always draw me in immediately and are always up-to-date and full of family, friends, angst, and love.
THE FAMILY JOURNAL is set in Texas, where single mom, Lily, is having troubles with her children. Both are running with the wrong crowd, and Lily decides to take a stand before their lives totally get out of control. She moves them to the small town of Comfort, where she grew up and still owns a home, and takes away all their electronics. Obviously, Holly and Braden aren't too happy with any of the changes their mom is making,but they have no choice but to abide by her decisions. Small town life might just be what they all need though including mom!
Lily and her children decide to move into the second floor of her house while sharing the kitchen and living room with tenant, Mack. It's interesting that while Lily and Mack knew each other in high school, they haven't really had any contact except when he rents her house. I love the vibe between them and how her kids took to him immediately.
The story is portrayed realistically with friendships from childhood still intact and only strengthening when Lily moves back. There are a multitude of characters that span the generations, and all have a depth to them. The story is filled with family, small town life, and love.
The family journal that is unexpectedly found connects everyone and everything and serves several purposes. Ultimately there is a happily ever after and some closure, since the last chapter takes place thirteen months after the story ends. There still seems more story to tell regarding some of the characters lives, and I can only hope we meet up with them in a novella, if nothing else. (Hint, hint!)
Ms. Brown has fast become one of my favorite authors, whether of cowboy or contemporary romances or women's fiction. Give her books a try if you haven't already.  You'll be glad you did!