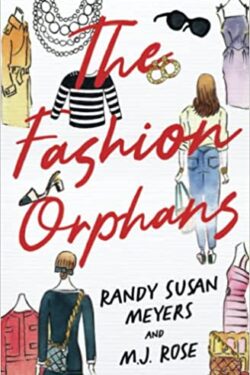 Author

Randy Susan Meyers, MJ Rose

Release Date

February 1, 2022

Publisher

Blue Box Press

ISBN/ASIN

9781952457708/‎B0977SWJJ3

Our Rating

Reviewed by

Michele Rioli
Our Review
THE FASHION ORPHANS is an intriguing tale of two estranged, half-sisters who discover their stylish, bossy mother had a secret obsession. Gabrielle Winslow, the older sister, was raised by their aloof mom, Bette, in luxury on Manhattan's wealthy east side. She grew up knowledgeable about fashion, the finer things in life, is a fashion designer and is now recently divorced. While, Lulu Quattro, the younger sister, was raised by her Brooklyn grandparents, married, has two sons and is recently widowed. They share the same mother but have different fathers. Both sisters have had sad times recently with financial difficulties.
The sisters arrive for the reading of the will with expectations of a sizable inheritance, to pay off their debts and return to their lives. Only the inheritance is a pittance with a catch. The lawyer tells them to go and see it for themselves in their mother's apartment. What surprise lies ahead?
They discover a huge secret closet in their mother's apartment. It contains a Chanel collection so massive it takes their breath away! They call the lawyer and learn they can't sell a thing without the lawyer's approval.
As the sister's contemplate their situation and how to sell it, they meet their mother's wonderful friends. The ladies share stories with them about the fascinating life of their mother. Importantly, they learn their mother loved them both so much. They were surprised, because Bette wasn't affectionate. They also find hand written notes tucked in the vast Chanel collection. It's as if Bette is talking to them from beyond! It's a life changing experience the sisters treasure and there's more surprises in store!
THE FASHION ORPHANS is a stunning, beautiful story of family bonds, hidden treasures, love in all its forms and more! I absolutely devoured this book! It was so fascinating, reading about the shock of finding a whole closet filled with beautiful clothing, purses, jewelry, etc. all from vintage Chanel. I would faint if my mom had anything like that! The authors' create a lush backdrop about Chanel, two midlife sisters trying to bury lifelong resentments, while figuring out how to go forward. What a terrific tribute to strong women! The plot is provocative, with humor and family problems infused throughout. Definitely a top notch read! THE FASHION ORPHANS is a rare gem!