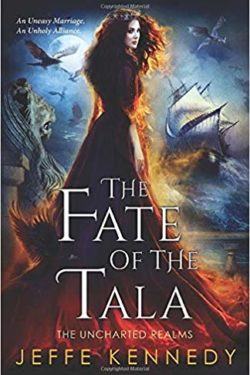 Author

Jeffe Kennedy

Release Date

February 2, 2020

Publisher

Brightlynx Publishing

ISBN/ASIN

B084GGRYK6

Our Rating

Reviewed by

Raonaid
Our Review
Andromeda, Andi to family and friends, is the Queen of the Tala and a powerful sorceress. She is also the avatar of the Goddess Moranu. Andi and her sisters prepare for the upcoming war with the God of Corruption's undead minions and the Dasnarian Empire. Andromeda's relationship with her husband grows strained when he is compromised by Deyrr's high priestess. Will Andi's power be enough to defeat Deyrr? Will she be forced to forsake her heart to save the Twelve Kingdoms? Or will the arrival of unexpected allies turn the tide of the war?
I went into this book with no idea of Andi's personality type or temperament. Unfortunately, I have not read THE MARK OF THE TALA, which introduces both the series and Andromeda and Rayfe's romance. I easily identified with her. I love how Andi is not over confident in her magical ability. She is susceptible to doubts and uncertainties. Andi compromises her talent by comparing her skill to that of her deceased mother. What I admire most about Andi is her reluctance to enter and tamper with another's mind. She finds it abhorrent and a breach of trust and privacy. There is a certain line Andi set for herself and refuses to cross it no matter what.
THE FATE OF THE TALA is book five in Jeffe Kennedy's fantasy-romance series, THE UNCHARTED REALMS. It is necessary to read all the books and novellas in the TWELVE KINGDOMS, THE UNCHARTED REALMS, and CHRONICLES OF DASNARIA series to understand all that happens in this story. I intend to find and read the books and novellas in the first two series that I have missed to fill in the gaps. I like how the couples from the prior books all play a pivotal role. I love reacquainting with Harlen and Ursula, Jepp and Kral, and Ivariel and Ochieng again.
THE FATE OF THE TALA is the much-anticipated conclusion to a three part series. I am sad that there will be no more adventures in this stunning and unique world. I will miss the Twelve Kingdoms.