The Forever Christmas Tree - Bell Sound #1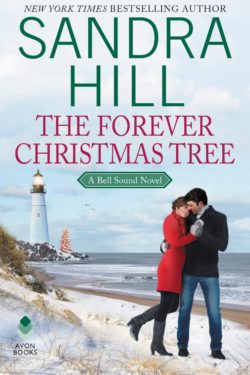 Author

Sandra Hill

Release Date

September 25, 2018

Publisher

Avon Books

ISBN/ASIN

9780062854070

Our Rating

Reviewed by

Jo
Our Review
THE FOREVER CHRISTMAS TREE is the first book in the BELL SOUND series and I can't wait to be back in the Outer Banks of North Carolina.  I love Christmas stories and this one didn't disappoint. There was heartbreak along with heartwarming moments, too. I loved the way the two churches of different denominations and the bells played an important role.  This is Ethan and Wendy's story but also so much more!
There were family and friends, lost romances and loves, a second chance at love, men and women active in the military, injuries, a Grinch contest and all things Grinch and Christmas, businesses, small town politics and neighbors, feuds, laughter, tears, anger, hurt, heat-up-the-sheet moments, plus romance and love.  There were many stories happening at once and they were interwoven seamlessly.  We learn the history of the town but also some of the history of the families and their friendships.  The characters all had a depth to them and we learn about them a little at a time.  The descriptions of the shore, the buildings, the land, the festivities, the decorations, and the homes made me feel like I was there.
There are twists and turns to the story with some unpredictability, too.  There is nice closure, especially with the epilogue, but there are enough single people in town that we can be back in Bell Cove over and over again.  The happily ever after was nicely portrayed.  I loved the titles of the chapters and sometimes they appeared in the middle of a chapter at a nice breaking point.  The cover was heartwarming and scenic which fit right into the story.
Sandra Hill is a new-to-me author and I don't know how I've missed her books before now.  Many are already added to my always growing, never diminishing, TBR pile!
A recommended read!