THE FORM OF THINGS UNKNOWN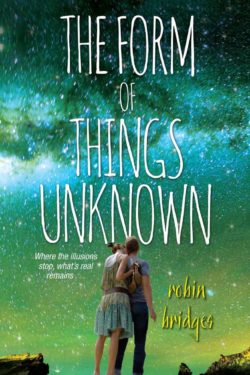 Author

Robin Bridges

Release Date

August 30, 2016

Publisher

Kensington

ISBN/ASIN

9781496703569

Our Rating

Reviewed by

Diana S
Our Review
Natalie Roman and her family moved to Savannah, Georgia, from Athens, Georgia, after Natalie is released from the psychiatric ward at Winter Oaks. Natalie had a psychotic break after taking ecstasy with her boyfriend. Natalie's grandma has schizophrenia and stopped taking her meds when her husband died. Natalie's parents move them into her grandmother's house so they can keep an eye on her. Grandma has a tendency of running away and not knowing how to get home. Natalie figures she will end up like her grandma when she gets older and that is crazy.
Lucas Grant was in Winter Oaks when Natalie was there and he is one of the teenagers trying out for the play at the old Savannah Theater this summer. Natalie's brother, David, talks her into going to try-outs for the play with him so he can see Colton. David has a crush on Colton but has never come out to anyone but his sister, so she helps him to be inconspicuous to others.
Natalie doesn't like crowds and doesn't want anyone to find out about her stay at Winter Oaks. She becomes friends with Lucas and they talk to each other about the things that put them in the psych ward. Natalie begins to see ghosts and hear noises when she thinks the theater is haunted like all old buildings in Savannah are. Her new friends like to use Ouija boards and spike their colas with vodka. She knows better than to drink with her meds so she skips them a few times.
THE FORM OF THINGS UNKNOWN started out to be a ghost story but delves into the mental illness of teenagers who think they see things that aren't really there. Robin Bridges examines the world of teens drinking and on drugs. This story is a look into the minds of the kids who end up in mental hospitals. It is interesting to see how people's lives can be affected so young by drugs.