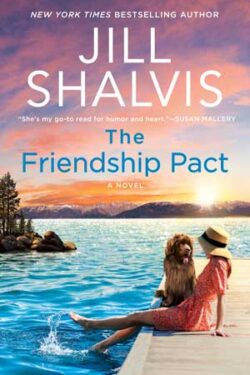 Author

Jill Shalvis

Release Date

June 14, 2022

Publisher

Avon/ William Morrow

ISBN/ASIN

9780063095465

Our Rating

Reviewed by

Raonaid
Our Review
Tae Holmes is the daughter of a teenage mother. She owns and operates a small yet successful event-planning company. Tae organizes a fundraiser for her first big client.  After the event, she mistakenly gets into the wrong car and comes face-to-face with a person from her angsty teenage past. Tae knows that Riggs Copeland cannot give her the stability she needs. She just wants to find out the truth about her birthfather. However, the truth could destroy not only Tae's relationship with her mother but with Riggs too. Can Tae withstand the truth's repercussions? Will she find her father?
Riggs Copeland is an equal partner in an adventure company that caters to people with disabilities, troubled teens, and wounded warriors. He is freshly out of the military. At his brother's insistence, Riggs reluctantly returns home only for the summer. He runs into a girl from his troubled high school days. Riggs has no intentions of staying, but he cannot ignore the chemistry he shares with Tae. He even offers to help track down her father; however, his good intentions do not go as planned. Can Tae give Riggs a reason to stay? Or will he let his irrational fear destroy a good thing?
There were moments in the story where Tae got on my nerves. I understand her reasons for being standoffish, closed off, and distrustful. Her teenage years have not been kind nor easy thanks to bullying and financial insecurity. I like the bond Tae shares with her mother. She could have resented her mother. Instead, Tae tried to look out for her and protected her from unsavory men. What I admire the most about Tae is how she knew exactly what she needed in a relationship. She refused to settle with just any many who showed interest. Tae did not want to follow in her mother's footsteps and repeat her mistakes.
I could never resist the tortured hero types. They have always been my weakness. So, it is no surprise that Riggs won my heart. He is a man of few words with both abandonment and trust issues. I like how Riggs recognized a fellow kindred spirit in Tae. Their circumstances may have been different, but he knew how to hide his homelife from public notice. What I admire the most about Riggs is his need to protect Tae. He tried to maintain an emotional distance, so he could spare her from heartache when he left.
THE FRIENDSHIP PACT is the second book in Jill Shalvis' contemporary romance/women's fiction series, SUNRISE COVE. This story can easily standalone. There is no on-going plot or reoccurring characters. The only similarity is the setting: Sunrise Cove in Tahoe, California. This book does touch on quite a range of touchy subjects, such as teenage motherhood, abusive parents, disabilities, and bullying. However, the author writes it in such a thought-provoking way intwined with her trademark humorous wit.
THE FRIENDSHIP PACT is an inspiring tale of two troubled souls reconnecting and overcoming their deep-seated emotional issues to be together. The author proves she can write more than just light-hearted, sweet stories, but ones with an emotional punch as well. I cannot wait to see what's next in this series.