The Gift of Hope (Unexpected Gifts)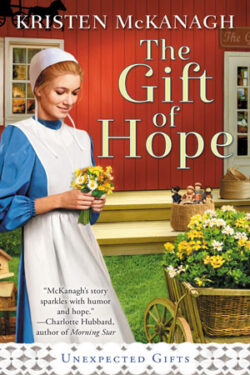 Author

Kristen McKanagh

Release Date

April 27, 2021

Publisher

Berkley

ISBN/ASIN

9780593199862

Our Rating

Reviewed by

Jo
Our Review
I am a fan of Amish stories, and THE GIFT OF HOPE, the first book in the UNEXPECTED GIFTS series, did not disappoint. The story is magical, well-described, with a wholesome romance and believable characters you want to root for. I loved this book!
Hope and Aaron's families have a history, and the families avoid each other despite living in a small Amish community in Indiana, where they attend the same church. Neither Hope nor Aaron knows the reasons why their fathers dislike each other, only that they're supposed to stay apart.
There's an attraction between Hope and Aaron, though each thinks it's one-sided and has unknowingly hurt the other. When Hope needs Aaron's help with a wedding gift, little do they know the lies, truths, and feelings that will unfold.
The familial relationships are solid, the emotions strong, and the camaraderie between the leads as they work in Aaron's family's shop together are just magical. The author does a tremendous job of describing the land and the community while also showcasing the individual characters. The feelings in this book are so strong, and the Amish words and Bible passages sprinkled throughout add a wholesomeness that enriches the story. There's an excerpt of the next book in the series, THE GIFT OF JOY, and it whet my appetite for more. I love the cover which drew me in and made me smile.
Ms. McKanagh is a new-to-me author. I look forward to reading more of her books!
A RECOMMENDED READ!